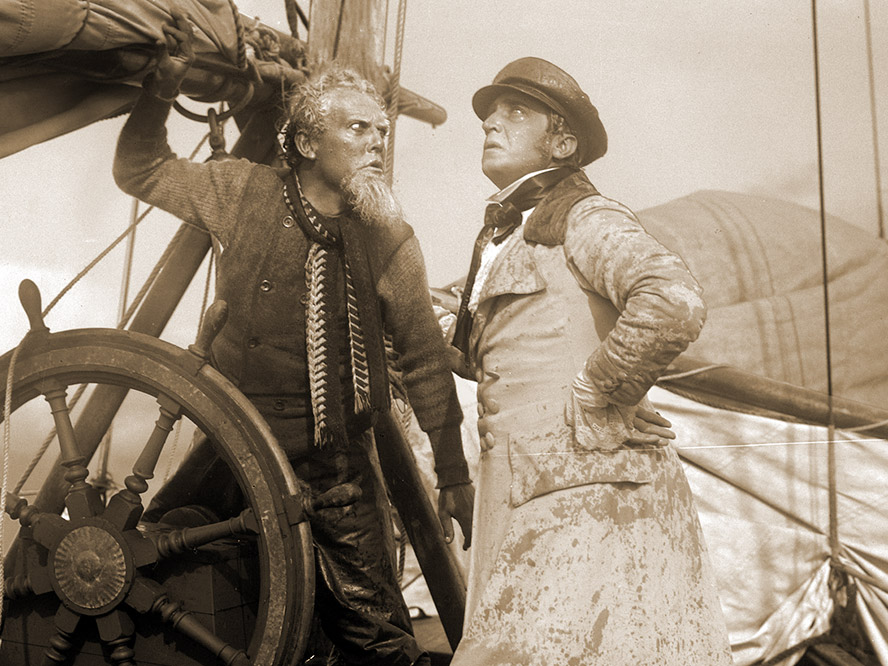 Victor Sjöström (left).
Photograph: courtesy Kino Lorber.


Terje Vigen


Also known as A Man There Was in the USA
(1917) Swedish
B&W : Feature film
Directed by Victor Sjöström Victor Sjostrom

Cast: Victor Sjöström [Terje Vigen], Bergliot Husberg [Mrs. Vigen], August Falck [the lord], Edith Erastoff [the lady]

Svenska Biografteatern AB production. / Produced by Charles Magnusson. Scenario by Gustav Molander, from the poem "Brand" by Henrik Ibsen. Production design by Axel Esbensen. Costume design by A. Bloch. Cinematography by J. Julius (Julius Jaenzon). / Released 29 January 1917. / Standard 35mm spherical 1.37:1 format. / The film was released in Denmark on 29 January 1917. The film was released in Finland on 13 January 1918. The film was released in Norway on 8 February 1918. The film was released in the USA on 25 April 1920.

Drama.

Survival status: Print exists.

Current rights holder: (unknown)

Keywords: Authors: Henrik Ibsen - Fishermen

Listing updated: 8 December 2009.

References: Bardèche-History p. 136; Cowie-Swedish-2 pp. 10-11, 12, 154; Fell-History p. 130; Forslund-Sjöström p. 277; McIlroy-Sweden pp. 5, 7-8, 34, 166; Shipman-Cinema pp. 62, 70; Sinyard-Silent p. 156.

Home video: DVD.