A collection of news and information pertaining to silent era films.
Copyright © 1999-2016 by Carl Bennett and the Silent Era Company.
All Rights Reserved.

Advertising on the Silent Era website
Advertising on the Silent Era website allows you to easily reach more than 24,000 readers per month interested in the silent era of world cinema (with more than an average of 87,000 page views a month, and more than 1 million page views annually). Now in its 12th year of publication, Silent Era is an excellent venue to advertise your products, events and services that pertain to silent film. Our readers are interested in books, home video, education, events and conventions that focus on silent era film. Choose to advertise on the entire website or choose the sections that concentrate on subjects of particular interest, you can make the most of your advertising budget.
If you are a book publisher, you can concentrate your advertising on our home page, our books section and elsewhere. If you have an annual convention or an educational program to promote, you might want to choose pages across several sections of the website. Home video publishers have our extensive DVD and Blu-ray Disc reviews section or the entire site to promote new releases, gift boxsets or special promotions. Your ad can link to your online store or to specific pages within your company's website.
Selected Interactive Advertising Bureau (IAB) advertising unit sizes are accepted on the Silent Era website, along with a few non-IAB ad unit sizes that are intended to offer economical advertising options.
At the top of each page on Silent Era is a single IAB Leaderboard advertisement, at 728 pixels wide by 90 pixels tall. This space is available for specific sections of the website, specific genres of Progressive Silent Film List film listings, or for the entire site.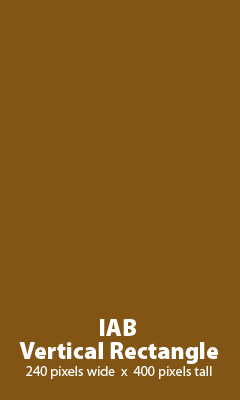 Some page-specific positions for IAB Vertical Rectangle advertisements, at 240 pixels wide by 400 pixels tall, are available imbedded within the page content of selected Silent Era pages. Page selections and ad positions are negotiable.

On each page of the Silent Era website, in the right-side advertising well (with its black background), is space for a single IAB Skyscraper advertisement, at 120 pixels wide by 600 pixels tall. Additional space is available on selected pages with extended editorial content — such as section indexes, articles, top silent film lists, extended PSFL film listings, etc. — for IAB Skyscraper advertisements, SE Lowrise ads, SE Tombstone ads and SE Button ads.

Among the non-IAB ad space available in the advertising well of selected pages is the SE Lowrise advertisement, at 120 pixels wide by 300 pixels tall.

Also available in the advertising well of selected pages is the SE Tombstone advertisement, at 120 pixels wide by 140 pixels tall.

Also available in the advertising well of selected pages is the SE Button advertisement, at 120 pixels wide by 70 pixels tall.

Animated file formats, such as animated GIFs and Flash animation files are accepted, but file sizes must be kept under 500kb to facilitate quick page-loading times. All advertising files must be served from the Silent Era webserver — remotely-served advertising content will not be accepted. (The only exceptions are our affiliate advertising content remotely-served from Amazon and the Google AdSense program.) Advertisements in page overlays, or pop-up or pop-under windows are not accepted.

To view Silent Era website analytics reports by Google (in PDF format), click on the monthly links that follow. You will see the monthly number of unique website visitors, the number of website visits, and the monthly number of page views, along with other helpful statistics that will help you assess the value of advertising on the Silent Era website. All of the more than 25,500 pages that comprise the Silent Era website have been updated with Google Analytics tracking code to ensure accurate website metrics.

An economical method of advertising on the Silent Era website is to utilize our text advertising space. Like a classified ad, your 20-word ad can entice our readers to seek more information about your products, services or events. The text ad ends with a direct link to your website.

Also, we offer advertising space within our infrequent Silent Era email newsletter that is sent to opt-in readers. Contact us for upcoming ad opportunities within our next newsletter.

For additional information concerning advertising on the Silent Era website,
including advertising rates and available select sections, email:
advertise [at] silentera.com

All advertising on the Silent Era website is subject to prior approval of the publisher, who reserves the right to reject advertising that is deemed inappropriate to the context of the website.

Please note: All e-mail addressees associated with this website are located in the State of Washington, and sending mail to these e-mail addresses is subject to the provisions of the Revised Code of Washington.