People active in the silent era and people who keep the silent era alive.
Copyright © 1999-2018 by Carl Bennett and the Silent Era Company.
All Rights Reserved.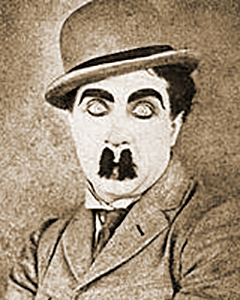 Photograph: Silent Era image collection.
Jimmy Aubrey
Born 23 October 1887 in Bolton, Lancachire, England, United Kingdom.
Died 2 September 1983 in Woodland Hills, Los Angeles, California, USA.
Son of American-born gymnast Robert Aubrey.
Jimmy Aubrey was a member of the Fred Karno comedy troupe that performed in America at the same time that Charles Chaplin and Stan Laurel toured with the group. Aubrey worked for The Vitagraph Company of America and Hal Roach Studios, Incorporated (circa 1929).
References: Miller-Comedies p. 20 : Website-IMDb.