People active in the silent era and people who keep the silent era alive.
Copyright © 1999-2019 by Carl Bennett and the Silent Era Company.
All Rights Reserved.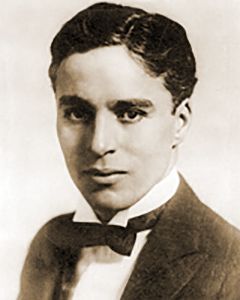 Photograph: Silent Era image collection.
Charles Chaplin
Born 16 April 1889 in London, England, United Kingdom, as Charles Spencer Chaplin.
Died 25 December 1977 at Manoir de Ban, Corsier sur Vevey, Switzerland, of natural causes.
Half-brother of actors Sydney Chaplin and Wheeler Dryden.
Married actress Mildred Harris, October 1918; divorced, 1920.
Married actress Lita Grey, 26 November 1924; son, Sydney Chaplin; son, Charles Chaplin Jr.; divorced, 25 August 1928.
Married actress Paulette Goddard, 1936; divorced, 1942.
Married Oona O'Neill, 1943; daughter, actress Geraldine Chaplin; daughter, Victoria Chaplin; son, Michael Chaplin; son, Christopher; until Charles' death, 25 December 1977.
Charles Chaplin began entertainment work in British music halls. As a young comedian, he toured Europe and America with the Fred Karno company through 1913. Chaplin began film work early in 1914 for Mack Sennett at The Keystone Film Company studio, where he became a world-famous film comedian. Chaplin signed with Essanay Film Manufacturing Company in 1915 for a considerable raise in pay and was, at the time, the world's highest-paid film star. He became independent film producer, releasing through Mutual Film Corporation, from 1916 through 1917. Chaplin released films through Associated First National Pictures, Incorporated, from 1918 through 1923, and released through United Artists Corporation from 1923 into the forties.
Very soon after beginning his motion picture career, Chaplin not only was the principal comedian in his films, he developed storylines and gags for the comedies, and directed them as well. Chaplin's comic technique — developed for vaudeville — began to mature in the 1910s, with more emphasis on story and character development (largely unheard of in the early days of comic cinema), and he occasionally brought pathos into his persona as The Little Tramp. In his later silent era work, Chaplin's obsessive development of his stories often delayed his films for years, but the results were always worth waiting for. Today, Charles Chaplin's little tramp remains the world's most recognized film character.
References: Website-IMDb.
Charles Chaplin photos Copyright © Roy Export Company Establishment. All Rights Reserved.
The images of, and characters portrayed by Charles Chaplin are trademarks and service marks of
Bubbles, Inc. S.A., and are used with permission.
Many of the images of, and characters portrayed by, Charles Chaplin appearing on this website
are protected under copyright, trademark, publicity and other laws and may not be used for any
commercial purpose or otherwise reproduced, distributed, transmitted, displayed, modified or transformed
without the authority of the rights owners except only for single reproductions for temporary private viewing
(but not further distribution or transmission) on the user's computer only.
Charles Chaplin licensing:
Association Chaplin
58 Rue Jean Jacques Rousseau
75001 Paris France
Tel: +33 1 40-26-31-23
Fax: +33 1 42-36-42-90
[Screenland, April 1922, pages 4, 7] Mary Pickford, Charlie Chaplin, Doug. Fairbanks and scores of other screen celebrities back on the stage! That's what's likely to happen at the big show that all Los Angeles and Hollywood is talking about — The Hollywood Follies of 1922. The show which will be a big revue built on the design of the Ziegfeld and Greenwich Village Follies will be entirely original. Nothing has been said about the appearance, as yet, of Doug, Mary and Charlie but it is generally assumed that they will take part. It is planned to put the show on for two nights in Los Angeles and to make a one night stand in San Francisco.