People active in the silent era and people who keep the silent era alive.
Copyright © 1999-2018 by Carl Bennett and the Silent Era Company.
All Rights Reserved.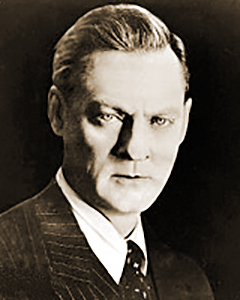 Photograph: Silent Era image collection.
Lionel Barrymore
Born 28 April 1878 in Philadelphia, Pennsylvania, USA, as Lionel Herbert Blythe.
Died 15 November 1954 in Van Nuys, California, USA, of a heart attack.
Son of actor Maurice Barrymore (Maurice Blythe) and actress Georgie Drew; brother of actor John Barrymore and actress Ethel Barrymore.
Married actress Irene Fenwick, 1923; until Irene's death, 24 December 1936.
Lionel Barrymore began working in films for Biograph Company in 1911.
References: Slide-FineArts p. 28 : Website-IMDb.