People active in the silent era and people who keep the silent era alive.
Copyright © 1999-2017 by Carl Bennett and the Silent Era Company.
All Rights Reserved.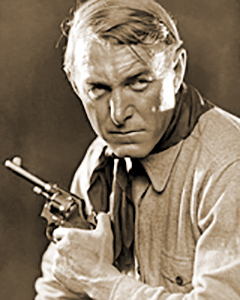 Photograph: Silent Era image collection.
Harry Carey
Born 16 January 1878 in The Bronx, New York, USA, as Henry DeWitt Carey Jr.
Died 21 September 1947 in Brentwood, California, USA.
Married Clare E. (unknown surname), circa 1910.
Married actress Fern Foster.
Married actress Olive Fuller Golden, 1920; son, actor Harry Carey Jr.; one other child;
until Harry's death, 21 September 1947.
Harry Carey began his career as a stage actor. He began film work in 1909. Worked for Biograph Company and The Universal Film Manufacturing Company, Incorporated, from 1909 through circa 1919.
References: Website-Wikipedia.