People active in the silent era and people who keep the silent era alive.
Copyright © 1999-2019 by Carl Bennett and the Silent Era Company.
All Rights Reserved.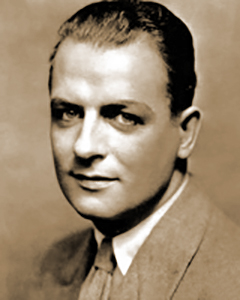 Photograph: Silent Era image collection.
Reginald Denny
Born 20 November 1891 in Richmond, Surrey, England, United Kingdom, as Reginald Leigh Dugmore Denny.
Died 16 June 1967 of cancer.
Son of stage actor William Henry Denny; brother of actor Malcolm Denny.
Married Irene 'Renee' Haisman, 1913; daughter, Betsy Denny; divorced, 1927.
Married actress Betsy Lee (real name Isobel, nickname 'Bubbles'), 1928; three children.
Reginald Denny began as a stage actor at the age of six. He worked for Universal Pictures Corporation in 1923. Denny continued film work into the sound era, appearing with Victor McLaglen in John Ford's The Lost Patrol (1934).
References: Website-IMDb : with additional information provided by Melanie Young.