People active in the silent era and people who keep the silent era alive.
Copyright © 1999-2017 by Carl Bennett and the Silent Era Company.
All Rights Reserved.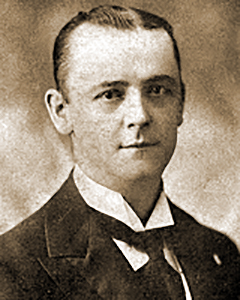 Photograph: Silent Era image collection.
Eddie Foy
Born 9 March 1856 in Greenwich Village, New York, USA, as Edward Fitzgerald.
Died 16 February 1928 in Kansas City, Missouri, USA, of a heart attack.
Married Rose Howland, 1879; one child; until her death, 1883.
Married Madeline Morando, 1896; son, director Bryan Foy, born 8 December 1896; son, entertainer Charley Foy, born 12 June 1898; daughter, entertainer Mary Foy, born 15 August 1901; daughter, entertainer Madeline Foy, born 21 September 1903; son, entertainer Richard Foy, born 1905; son, entertainer Irving L. Foy, born 26 August 1908; until her death, 1918.
Married Marie Reilly Coombs, 1923; until his death.
Eddie Foy was a famous vaudeville entertainer, who occasionally appeared in motion pictures. After the death of his second wife, Madeline, Eddie incorporated their children into the famous vaudeville family act, The Seven Little Foys.
References: Website-IMDb.