People active in the silent era and people who keep the silent era alive.
Copyright © 1999-2018 by Carl Bennett and the Silent Era Company.
All Rights Reserved.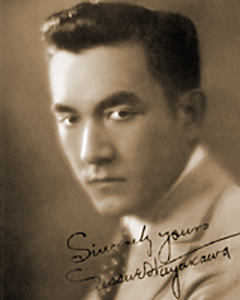 Photograph: Silent Era image collection.
Sessue Hayakawa
Born 10 June 1889 in Nanaura, Chiba, Japan, as Kintaro Hayakawa.
Died 23 November 1973 in Tokyo, Japan, of cerebral thrombosis.
Married actress Tsuru Aoki, 1 May 1914; until Tsuru's death, 18 October 1961.
Sessue Hayakawa, actor, producer, star of Cecil B. DeMille's sexploitation shocker The Cheat (1915), has the distinction of being Hollywood's first Asian male film star. Born in Chiba, Japan, he reputedly came from aristocratic Samurai stock. Abandoning career plans as a naval officer, he turned to the Japanese stage and joined a theatre troupe that eventually toured the American West in 1913. He was discovered by producer Thomas H. Ince and offered a motion picture contract. He was an instant success in The Wrath of the Gods (1914) and The Typhoon (1914).
Following his torrid, star-making performance as Tori, the ivory merchant who lusts after society matron Fannie Ward in DeMille's blockbuster, Hayakawa was the romantic idol of millions of American women in the late 1910s and early 1920s. The Japanese community vehemently protested the film's unsympathetic portrayal and tried to ban its 1918 rerelease. Despite the film's controversy, he rivaled many the top White male stars of the 1910s, alternating charismatic villain and romantic hero roles with versatile ease. Alien Souls (1916), The Call of the East (1917), Forbidden Paths (1917), The Secret Game (1917), The White Man's Law (1918) and The Bravest Way (1918) were among the romantic melodramas in which he costarred with some of the screen's top leading ladies (Florence Vidor, Jane Novak, Marin Sais, Marjorie Daw, Bessie Love) of the period. Jack Holt (1888-1951) was usually cast as Hayakawa's ideologically 'correct' rival for the heroine's love. Holt moved on to greater fame as Paramount's top Western and action-adventure star in the 1920s.
In 1918, Hayakawa quit Paramount to establish his own production company, Haworth Pictures. He produced and headlined a string of popular Asian-themed films: His Birthright (1918), The Dragon Painter (1919) and The Tong-Man (1919). He costarred with his wife, Tsuru Aoki. With the exceptions of The Cheat, The Secret Game (with Vidor and Holt) and The Tong-Man that are available on DVD home video, many of Hayakawa's films are presumed lost. Titles such as The Bravest Way and The Dragon Painter are held in film archives.
The Haworth films, usually directed by William Worthington and Colin Campbell, often reflected Hayakawa's 'crossover' fantasies and American Dream aspirations of interracial tolerance and social accommodation. The combination of anti-Japanese immigration sentiments and poor box-office films forced him off the screens in 1922. Hayakawa would seek career asylum, first in Japan and then in France.
In France, he starred in La bataille [The Danger Line] (1923) with Aoki, another popular East-West marital melodrama based on a popular novel. Other films, Sen Yan's Devotion (1924) and The Great Prince Shan (1924), followed in Britain. Hayakawa eventually hit the Hollywood 'comeback' trail in 1931, making his talkie debut in Anna May Wong's Daughter of the Dragon (1931). His performance as Ah Kee, a Scotland Yard detective was poorly received and revealed a heavy accent. He retreated again to Japan for Mansaku Itami's Atarashiki tsuchi [New Earth] (1937), and then to France for Max Ophuls' geisha melodrama Yoshiwara (1937), and Jean Delannoy's Macao, l'enfer du jeu [Gambling Hell] (1939). He, ironically, reprised his old role for a French remake of The Cheat, entitled Le Forfaiture (1937).
Hayakawa returned to Hollywood in 1949, costarring with Humphrey Bogart in Tokyo Joe (1949) and with Claudette Colbert in Three Came Home (1950). He received an Academy Award nomination for his next role as the formidable Colonel Saito, the Japanese prison camp commander in David Lean's epic The Bridge on the River Kwai (1957).
He retired from acting in the mid-1960s, becoming a Zen priest and private drama coach until his death in 1973 of cerebral thrombosis.
— Biography by Joseph Worrell
References: Brownlow-Behind pp. 341-352 : Bodeen, DeWitt, "Sessue Hayakawa," in Films in Review, Volume 27, April 1976 : Website-IMDb.