People active in the silent era and people who keep the silent era alive.
Copyright © 1999-2018 by Carl Bennett and the Silent Era Company.
All Rights Reserved.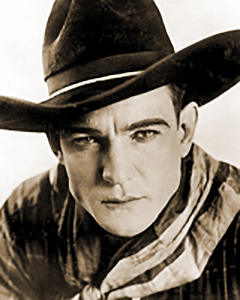 Photograph: Silent Era image collection.
Buck Jones
(same as Charles Jones and Buck Gebhardt)
Born 12 December 1891 in Vincennes, Indiana, USA, as Charles Frederick Gebhardt.
Died 30 November 1942 in Boston, Massachusetts, USA, from injuries sustained in the Cocoanut Grove club fire.
Married Odelle Osborne, 11 August 1915; daughter, Maxine Jones, born 1918; until Charles' death, 30 November 1942.
Buck Jones began film work in 1917, due to his horse savvy he appeared in western films. In a relatively short amount of time he was starring in films at Fox Film Corporation, where he was directed by John Ford and others.
In 1928, he formed the short-lived Buck Jones Productions, which fell victim to the Wall Street stock market crash of October 1929.
In the 1930s he appeared in a popular series of low-budget westerns.
References: Website-IMDb.