People active in the silent era and people who keep the silent era alive.
Copyright © 1999-2018 by Carl Bennett and the Silent Era Company.
All Rights Reserved.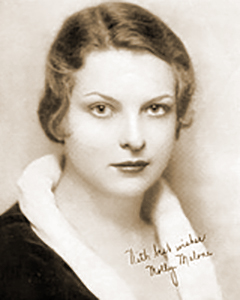 Photograph: Silent Era image collection.
Molly Malone
Born 7 December 1888 in Wisconsin, USA, as Violet Isabel Malone.
Died 14 February 1952 in Los Angeles, California, USA, of natural causes.
Married Francis Cornet, 1917.
Married William Crothers; divorced.
Molly Malone began film work in 1916, and she retired from films after her final film in 1929. During her film career she worked for directors John Ford and Clarence Badger, appearing in more than 80 films — many of which were comedies and westerns.
References: Website-IMDb.