People active in the silent era and people who keep the silent era alive.
Copyright © 1999-2019 by Carl Bennett and the Silent Era Company.
All Rights Reserved.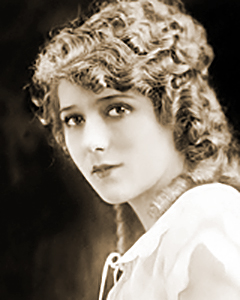 Photograph: Silent Era image collection.
Mary Pickford


Born 8 April 1892 at 211 University Avenue, Toronto, Ontario, Canada, as Gladys Louise Smith.
Died 29 May 1979 at Santa Monica Hospital, Santa Monica, California, USA, of natural causes.
Sister of actor Jack Pickford and actress Lottie Pickford.
Married actor Owen Moore 7 January 1911 in Jersey City, New Jersey, USA; divorced 2 March 1920 in Nevada, USA.
Married actor Douglas Fairbanks 28 March 1920; divorced December 1933.
Married actor and bandleader Charles 'Buddy' Rogers 26 June 1937; until Mary's death, 29 May 1979.
Mary Pickford began in motion pictures at the Biograph Company in New York under the direction of legendary film director D.W. Griffith. Pickford played a number of juvenile roles before graduating to ingenue leads in rotation with other Biograph actresses, as was Griffith's modus operandi. Pickford left Biograph late in 1910 to make films for Thomas H. Ince and the IMP company in Cuba. Unhappy with quality of stories and production, Pickford signed briefly with the Majestic Motion Picture Company late in 1911 and continued into 1912, when she left Majestic to return to Biograph.
Circa late 1921, Pickford and Douglas Fairbanks purchased their combined studio facilities from Jesse D. Hampton for $150,000.
While on a world vacation, Pickford and Fairbanks sailed from Piraeus, Greece, arriving in Cairo, Egypt, circa 5 November 1929. On 12 November 1929, they sailed from Port Said on the S.S. Cathay for ports in the Far East.
References: Slide-FineArts pp. 1, 18, 84, 94, 135, 149; Whitfield-Pickford pp. 8, 10 : Screenland-192204 p. 7; Variety-19291106 pp. 2, 5.
[Motion Picture Classic, January 1920, page 55] How impressive are statistics! Mary Pickford's tabulator states that Little Mary will make 15 miles of drama in 1920 and that 100,000,00 people will crowd theaters in every land to see her. The subtitles of her plays will be translated into seven languages, including Chinese and Japanese. We'd like to see "Pollyanna" in Swedish.

[Motion Picture Classic, January 1920, page 84] The coming few months will see a definite stand taken against the cutting of feature plays to fit de luxe theater programs. / Recall what David Griffith said recently in THE CLASSIC? / Mary Pickford has just announced that she will not permit her future productions' to be cut in any way by exhibitors, either to shorten their programs or because they do not like certain scenes.

[Screenland, April 1922, pages 4, 7] Mary Pickford, Charlie Chaplin, Doug. Fairbanks and scores of other screen celebrities back on the stage! That's what's likely to happen at the big show that all Los Angeles and Hollywood is talking about — The Hollywood Follies of 1922. The show which will be a big revue built on the design of the Ziegfeld and Greenwich Village Follies will be entirely original. Nothing has been said about the appearance, as yet, of Doug, Mary and Charlie but it is generally assumed that they will take part. It is planned to put the show on for two nights in Los Angeles and to make a one night stand in San Francisco.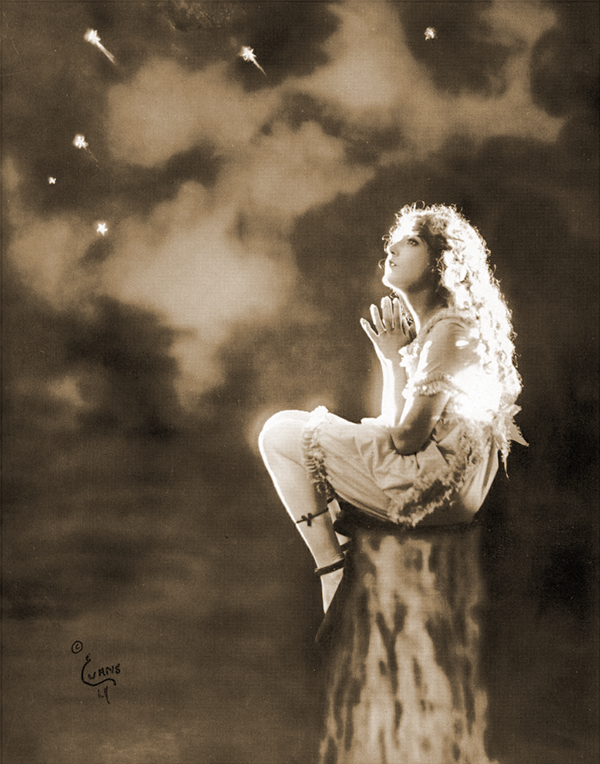 Photograph by Evans.