People active in the silent era and people who keep the silent era alive.
Copyright © 1999-2018 by Carl Bennett and the Silent Era Company.
All Rights Reserved.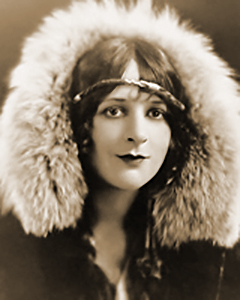 Photograph: Silent Era image collection.
Nell Shipman
Born 25 October 1892 in Victoria, British Columbia, Canada, as Helen Foster Barham.
Died 23 January 1970 in Cabazon, California, USA.
Married producer Ernest Shipman, 1910; son Barry Shipman; divorced, 1920.
Married artist Charles Austin Ayers; two children; separated 1932; until Charles' death.
Nell Shipman, writer, director, actor, ecologist and animal-rights activist, played a vital role in both American and Canadian film history. A filmmaker who was ahead of her time, Shipman was an unconventionally pretty, independent heroine, who usually ended up rescuing her male partner in a series of wild-animal/outdoor melodramas. A cinema pioneer, she followed in the feminist filmmaking tradition of Alice Guy Blaché, Grace Cunard and Lois Weber.
Born Helen Foster Barham in Victoria, British Columbia, to English parents, who eventually settled in Seattle. At thirteen, Nell started her stage career, touring in vaudeville and stock companies. She married Canadian theatrical entrepreneur Ernest Shipman in 1910, and moved with him to southern California the following year.
In 1915, she sold the rights of her book, Under the Crescent, to Universal for a six-part serial. Shipman quickly developed a reputation as a talented scenarist and filmmaker, turning out a series of short films for Universal, Selig and Vitagraph studios, where she was also under contract. Her production of American novelist James Oliver Curwood's Canadian Northwest tale, God's Country and the Woman (1916) became an overnight success. Nell and Ernest produced Baree, Son of Kazan in 1918.
Ernest and Nell returned to Alberta to work on a Curwood sequel. The film ran into some censorship problems over a nude-bathing scene, but Back to God's Country (1919) still became the biggest box-office success of any Canadian film during the silent era. Nell and Ernest divorced a year after the film's release. She had met and fallen in love with her leading man Bert Van Tuyle, the film's production manager and a former race car driver.
Nell established her own production company in 1920, with Van Tuyle as her codirector. Something New (1920), a car-chase adventure, was the first feature under the new Nell Shipman production company. Ernest Shipman continued in the industry, producing Cameron of the Royal Mounted (1921) and The Man from Glengarry (1923), another important Canadian-U.S. coproduction.
Nell Shipman was one of the first directors to shoot her productions predominantly on location. Spokane, Washington, and nearby Upper Priest Lake, Idaho, sometimes substituted for the great Canadian north. The outdoor cinematography of God's Country and the Woman, directly contributed to the immensely popular Northwoods film genre. Her production crew was comprised mostly of expatriate Canadians. Future Frank Capra cameraman Joseph Walker was her cinematographer, while David M. Hartford (Nomads of the North [1920]) acted as nominal director.
Hoping to recoup their losses from The Girl from God's Country (1921), Shipman Productions released The Grub Stake in 1923. Four years later, Sierra-Aywon Productions reissued it in 1927 as The Golden Yukon on the independent states-right market. Her other short films included, Trail of the Arrow (1920), The Light on Lookout (1923), Trail of the Northwind (1923) and White Water (1924). Known to movie audiences as "the girl from God's country" and "the queen of the dogsleds," Shipman often reprised the formula, combining it with lots of snow, wilderness and wild animal adventure.
Nell Shipman Productions, Incorporated, often did not have access to dependable distribution outlets. Recouping little or sometimes no profit from its films, Nell Shipman Productions went bankrupt in 1925. Most film historians have blamed partner Van Tuyle's fiscal mismanagement for the financial disaster of The Girl from God's Country and subsequent productions.
Out of the Hollywood limelight, Shipman continued her screenplay writing. Her most noted work in the sound era was Paramount's Wings in the Dark (1935), with Myrna Loy and Cary Grant.
Boise State University's Nell Shipman Archive has restored Nell Shipman's surviving films. Her autobiography, The Silent Screen and My Talking Heart, was published seventeen years after her death and was recently reprinted in its third edition. Back to God's Country and Something New are currently available on DVD home video.
— Biography by Joseph Worrell
References: Shipman-Silent; Kay Armatage, The Girl from God's Country, Toronto, University of Toronto Press, 2003 : Website-IMDb; Website-Wikipedia.