People active in the silent era and people who keep the silent era alive.
Copyright © 1999-2018 by Carl Bennett and the Silent Era Company.
All Rights Reserved.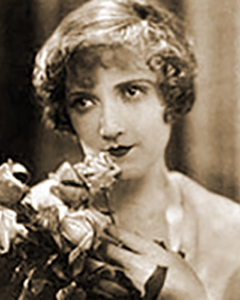 Photograph: Silent Era image collection.
Constance Talmadge
(same as Georgia Pearce, G. Pierce)
Born 19 April 1897 in Brooklyn, New York, USA, as Constance Alice Talmadge.
Died 23 November 1973 in Los Angeles, California, USA, of pneumonia.
Daughter of Margaret Talmadge. Sister of actress Norma Talmadge and actress Natalie Talmadge.
Married John Pialoglou, 26 December 1920; divorced, 1922.
Married Alastair McIntosh, 27 February 1926; divorced, 1927.
Married Townsend Metcher, 9 May 1929; divorced, 1931.
Married Walter Michael Giblon, in 1939; until his death, 1 May 1964.
Constance Talmadge was rumored to have been seen dancing with a man identified as "Maurice, the tango connoisseur" in early 1922, before her divorce from Pialoglou. Scandalous!
References: Screenland-192204 p. 7 : Website-IMDb.