People active in the silent era and people who keep the silent era alive.
Copyright © 1999-2018 by Carl Bennett and the Silent Era Company.
All Rights Reserved.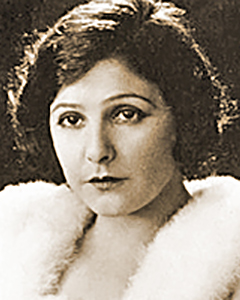 Photograph: Silent Era image collection.
Norma Talmadge
Born 26 May 1893? in Jersey City, New Jersey, USA.
Died 24 December 1957 in Las Vegas, Nevada, USA, of a stroke.
Sister of actresses Constance Talmadge and Natalie Talmadge.
Married producer Joseph M. Schenck, 20 October 1916; divorced, 4 April 1934.
Married comedian George Jessel, 23 April 1934; divorced, 11 August 1939.
Married doctor Carvel James, 4 December 1946; until Norma's death, 24 December 1957.
Norma Talmadge was one of the handful of true superstars of the silent screen. She was a major box office draw for more than a decade. A specialist in melodrama, her films are seldom revived today, and the often haughty look of her still pictures give little hint of her animated face and sparkling personality.
Norma Talmadge was born in Jersey City, New Jersey, probably in 1893 (though she said 1895 and finally 1897). She grew up with her younger sisters Constance and Natalie and her witty and strong-willed mother Peg — her alcoholic father having more or less abandoned the family. From Erasmus High School she got a job posing for song slides. In 1910, Peg managed to bluff her way into Vitagraph Studio in Flatbush, and Norma was soon graduating from bit parts to featured roles in countless short films through 1915. In that year, she won a major role in Vitagraph's prestigious feature film The Battle Cry of Peace (1915). Peg figured that Norma was worth more than Vitagraph was willing to pay, so they signed with a new company whose demise left the family stranded in California after only one picture. Deciding it was smarter to aim high, they went to Triangle Corporation, where D.W. Griffith was supervising productions. Norma and Constance were both signed; Norma starred in seven features for Triangle in 1916. By the end of the year, she had met and married Joseph M. Schenck, a self-made millionaire trying to find an entrée into the picture business. He founded the Norma Talmadge Film Corporation, and their first picture, Panthea (1917) was a smash hit, establishing Norma as a first rank star. Schenck was soon also running New-York based corporations for Constance, Roscoe (Fatty) Arbuckle and Buster Kenton, who married Norma's sister Natalie.
Talmadge's films steadily grew in popularity, peaking during the early 1920s. Her most popular film was Smilin' Through (1922), but she also scored artistic triumphs teamed with director Frank Borzage in Secrets (1924) and The Lady (1925). The whole family joined Natalie and Buster in Hollywood in 1922, where Norma and Constance were among the best liked and most popular members of the Hollywood scene of the extravagant '20s.
It was widely rumored that Schenck preferred to hire gay leading men for his wife's films, most notably ten-time costar Eugene O'Brien and four-time costar Harrison Ford (whose comic gifts found an outlet in ten of Constance's films). Perhaps his fears were not unfounded — in 1927 he hired newcomer Gilbert Roland to star opposite her in Camille (1927), and they promptly fell in love. Norma and Joe Schenck separated, though he continued producing her films. He was now president of the prestigious but theater-poor United Artists Corporation, and the rest of Norma's films were released for that company. UA's distribution problems, however, began to erode Norma's box office clout. Gilbert Roland continued to costar in her last two silent films, and in her first talkie, New York Nights (1929). Contrary to popular belief, she does not speak with a Brooklyn accent in sound films, but though her performance was good, the film was little better than a programmer. What she needed was a big hit, but shat she got in her final film, Du Barry, Woman of Passion (1930) was an embarrassing flop. She had been increasingly bored with filmmaking before the talkie challenge came along, and this setback seems to have discouraged her from further attempts. She also observed how the public had turned away from its old silent screen favorites in favor of the new talkie stars. Though additional films were announced, she never again appeared onscreen.
Norma and Joe finally divorced in 1934, but by this time she had decided not to marry the still devoted Gilbert Roland in favor of Joe's poker buddy, comedian George Jessel. She appeared on stage and in radio with him, but by 1939 she had had enough of the marriage and obtained another Juarez divorce. Her movie career and Joe's excellent management had left her one of the wealthiest women in the country. Restless and bored since her retirement, Norma spent her time traveling, shuttling between her houses, entertaining, and visiting with her still close-knit family. She was often in the company of her physician, Dr. Carvel James, who apparently had been treating her since her divorce from Jessel. They married in 1946 after his divorce became final. Suffering from severe arthritis and reportedly addicted to painkilling drugs, Norma, who had never been comfortatble with the burdens of public celebrity, became increasingly reclusive. She and her husband lived quietly at their home in Las Vegas, where she died of a stroke on Christmas Eve, 1957.
— Biography by Greta de Groat
References: Website-IMDb.