People active in the silent era and people who keep the silent era alive.
Copyright © 1999-2018 by Carl Bennett and the Silent Era Company.
All Rights Reserved.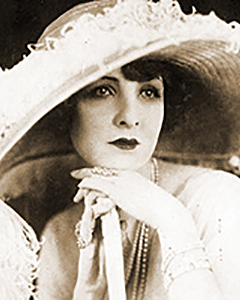 Photograph: Silent Era image collection.
Claire Windsor


Born 14 April 1897 in Cawker City, Kansas, USA, as Clara Viola Cronk.
Died 23 October 1972 in Los Angeles, California, USA, of a heart attack.
Married actor Bert Lytell, 1925; divorced, 1927.
Claire Windsor was one of the second-rung stars, but definitely was one of the leading American beauties of the silent era. She was born Clara Viola Cronk of Scandinavian heritage in Kansas. Trained in voice and dance, she began her film career after winning a beauty contest in Seattle. Lois Weber, one of the leading women directors of the period, mentored, and rechristened the promising starlet Claire Windsor in homage to her patrician auburn (later blonde) looks. Weber cast her in a series of domestic/marital situations in To Please One Woman (1920), What's Worth While? (1921), Too Wise Wives (1921) and What Do Men Want? (1921). The Blot (1921), with Louis Calhern and serial queen Marie Walcamp, remains the most popular of the Weber films.
Windsor was selected as a WAMPAS Baby Star of 1922, and became a popular leading lady of romantic melodramas at Samuel Goldwyn, Universal Pictures Corporation and First National Pictures, Incorporated. Windsor was later one of the top stars at the newly amalgamated Metro-Goldwyn-Mayer. For MGM, she appeared in The Denial (1924), The White Desert (1925), Dance Madness (1926) and Money Talks (1926). At the Tiffany studios, Souls for Sables (1925) was a box-office hit for Windsor. At Universal, she costarred with Norman Kerry in a Foreign Legion romance, The Claw (1927). Her career waned in the late 1920s, appearing as a freelancer in 'poverty row' quickies at Columbia Pictures Corporation, Gotham and Tiffany-Stahl.
Claire Windsor made her sound debut in Midstream (1929), but did not stage a comeback until Self Defense in 1932. Her early relationship with Charles Chaplin, and an alienation of affections lawsuit in 1932, gave her some negative but helpful publicity. In her retirement years, Windsor devoted herself to painting.
With the exceptions of Weber's The Blot and Too Wise Wives and The Little Church Around the Corner (1923) on DVD, and Universal's The Claw on VHS, many of Windsor's films are presumed lost or unavailable for general viewing.
— Biography by Joseph Worrell
References: Liebman, Roy. The Wampas Baby Stars. Jefferson, North Carolina: McFarland Press, 2000, pp. 204-206; Slide, Anthony. Silent Players. Lexington: University of Kentucky Press, 2002, pp. 421-442 : Website-IMDb.