People active in the silent era and people who keep the silent era alive.
Copyright © 1999-2019 by Carl Bennett and the Silent Era Company.
All Rights Reserved.
Georges Méliès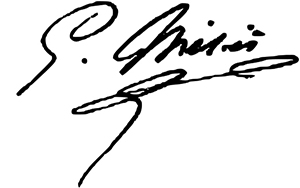 Born 8 December 1861 in Paris, France, as Marie-Georges-Jean Méliès.
Died 21 January 1938 in Paris, France, of cancer.
Married Eugénie Génin in 1885; daughter Georgette, born 1888; son André, born 1901; until her death (1913).
Married actress Jeanne d'Alcy in 1925; until Georges' death.
Georges Méliès began his entertainment career as a stage illusionist. With a family inheritance and his wife's dowry, he purchased an established magic venue — the Théâtre Robert-Houdin — in 1888. As owner-manager of the theater, Méliès learned mechanical stage techniques that would serve him well later.
Having attended first motion picture presentation hosted by the Brothers Lumière late in December 1895, Méliès became intensely intrigued with the process of filmmaking and attempted to buy a Lumière camera. Having been rebuffed, Méliès traveled to London where he obtained an Animatograph motion picture camera from Robert W. Paul, which became the basis for his own camera designed and built with the assistance of mechanical technician Lucien Korsten and his associate Lucien Reulos. The crude but functional camera was patented as the Kinètographe Robert-Houdin camera. With motion picture raw stock purchased from England, Méliès began producing his own films in 1896.
At first, Méliès' films were remakes of those films being produced by the Lumière brothers — actualities and pseudo documentaries. Soon, however, Méliès began producing trick films that could be presented in his Théâtre Robert-Houdin and would be consistent with its illusionist program. The films began to incorporate higher production values than other films and feature illusions that mystified late 19th century audiences. The Méliès films were extremely influential and were greatly responsible for transporting the nascent cinema into its second phase of development.
Georges Méliès produced more than 500 films through his Star-Film production company between 1896 and 1913, for which Méliès wrote the scenario, designed the sets and costumes, and directed and performed in nearly all of them. Of his prodigious output, Méliès is best-remembered today for Le Voyage dans la lune [A Trip to the Moon] (1902), with its iconic shot of a projectile stuck in the eye of the Man in the Moon.
As innovative as his motion picture productions were in the first decade of the 20th century, with their complex settings and imaginative visual tricks, Méliès' films began to look dated by 1910. The motion picture industry was evolving into its third phase of development with its maturing visual and storytelling techniques.
By 1913, it was all over. In debt to his distributor Pathé Frères and mortgaged to his eyes, Méliès could not continue making motion pictures. During World War I, the French army seized the collection of more than 400 of Méliès' films to reduce them to their recoverable silver and celluloid elements to help sustain the war effort. Méliès' home became a military hospital in 1917. The Théâtre Robert-Houdin had closed during the war, but Méliès continued to make a meagre living by sporadically producing stage performances on his property in Montreuil.
In 1923, Pathé was able to seize control of Georges Méliès' assets (which included his production company, his home and the Montreuil film studio) in an attempt to recover his debts. Feeling betrayed, Méliès set fire to the studio property, which reputedly included settings, costumes, and the surviving film negatives. Méliès then disappeared until surfacing in the late 1920s as a sundries and toy dealer at the Montparnasse train station in Paris (as is fictionalized in Martin Scorsese's 2011 film Hugo). In the latter years of the 1920s and into the early 1930s Méliès' cinematic work was critically reevaluated and publically acknowledged in France. But his family's modest living conditions continued at a near-poverty level until Méliès' acceptance into the Cinema Society's La Maison du Retraite du Cinéma film industry assisted-living home in Orly in 1932.
In 1936, cinephile Henri Langlois and filmmaker Georges Franju rented a building on the Orly property to house a growing number of film prints and entrusted Méliès to be caretaker of the collection that would become the foundation of the Cinémathèque française film archive. By late 1937, Méliès was becoming increasingly ill from advancing cancer, and Langlois arranged for Méliès' admission in a Paris hospital until his January 1938 death.
Of Georges Méliès' more than 500 film productions, only a little more than 200 of them are known to survive.
References: Website-Wikipedia.