Reviews of silent film releases on home video.
Copyright © 1999-2018 by Carl Bennett
and the Silent Era Company.
All Rights Reserved.
America
(1924)
The last of D.W. Griffith's independent productions is a historical epic that stars Neil Hamilton, Carol Dempster and Lionel Barrymore, and features support from Erville Alderson, Louis Wollheim, Charles Emmett Mack, Lee Beggs, Arthur Donaldson, Charles Bennett, Downing Clarke, Frank Walsh, Frank McGlynn Jr., Sydney Deane, Harry Semels, William S. Rising and Lucille La Verne, among many others.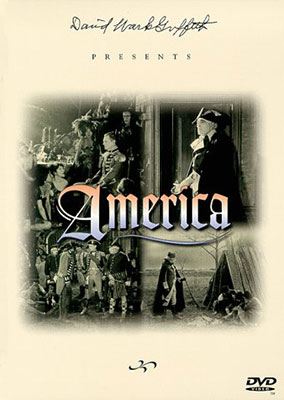 Image Entertainment
1999 DVD edition

America (1924), color-toned black & white, 140 minutes, not rated.

Film Preservation Associates, distributed by Image Entertainment,
ID4726DSDVD, UPC 0-14381-47262-2.
One single-sided, single-layered, Region 0 NTSC DVD disc, 1.33:1 aspect ratio image in full-frame 4:3 (720 x 480 pixels) interlaced scan MPEG-2 format, 4.5 Mbps average video bit rate, 192 kbps audio bit rate, Dolby Digital 2.0 stereo sound, English language intertitles, no foreign language subtitles, 29 chapter stops; snapper DVD case, $29.99.
Release date: 9 March 1999.
Country of origin: USA

Ratings (1-10): video: 4 / audio: 2 / additional content: 0 / overall: 3.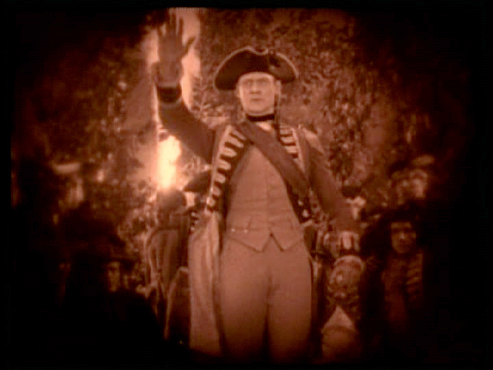 This early DVD edition was visually a little disappointing, but understandably forgiveable. The edition was prepared in 1999 from the video masters produced by David Shepard for the mid-1990s Image Entertainment laserdisc edition. The source material appears to be a 16mm reduction print. While the DVD bit rate is at a reasonable level, the resolution of the video master itself is low-enough that sharp-eyed viewers will note the horizontal interlacing of the video image in some shots and, in particular, in the intertitles. Those with HD televisions won't miss seeing the interlacing at all. The overall result is a softer, less-detailed, picture that doesn't fully do justice to the clarity of the surviving source print (very likely originating from the surviving print of the British version of the film, Love and Sacrifice, held by the Museum of Modern Art).
What is unforgiveable is how egregious the musical accompaniment by Eric Beheim is. The annoying nature of what is being played in combination with the choice of synthesizer sound settings is sure to set your teeth on edge.
As rough as this edition is, it is the best available on home video. We welcome a time soon when a high-resolution edition can be prepared and released.
USA: Click the logomark to purchase this Region 0 NTSC DVD edition from Amazon.com. Your purchase supports the Silent Era website.
Canada: Click the logomark to purchase this Region 0 NTSC DVD edition from Amazon.ca. Your purchase supports the Silent Era website.