Reviews of silent film releases on home video.
Copyright © 1999-2018 by Carl Bennett
and the Silent Era Company.
All Rights Reserved.
The
Origins of Film
(1900-1927)
Contents: The Enchanted Drawing (1900), Fun in a Bakery Shop (1902), Humorous Phases of Funny Faces (1906), The Narrow Road (1912), A House Divided (1913), How Men Propose (1913), Matrimony's Speed Limit (1913), A Florida Enchantment (1914), The Patchwork Girl of Oz (1914), Alias Jimmy Valentine (1915), Dreamy Dud: He Resolves Not to Smoke (1915), Keeping Up with the Joneses: Women's Styles (1915), Keeping Up with the Joneses: Men's Styles (1915), The Phable of a Busted Romance (1916), Bobby Bumps Starts a Lodge (1916), Krazy Kat Goes A-Wooing (1916), Krazy Kat — Bugologist (1916), Krazy Kat and Ignatz Mouse at the Circus (1916), Mr. Nobody Holme: He Buys a Jitney (1916), Never Again! (1916), The Phable of the Phat Woman (1916), The Dinosaur and the Missing Link: A Prehistoric Tragedy (1917), Mary and Gretel (1917), The Katzenjammer Kids: Police and Pie (1918), W.S.S. Thriftettes (1918), A.W.O.L.; or, All Wrong Old Laddiebuck (1919), Us Fellers: Dud Leaves Home (1919), Within Our Gates (1920), The Centaurs (1921), Gertie on Tour (1921), Too Wise Wives (1921), Sissle and Blake (1923) and The Scar of Shame (1927).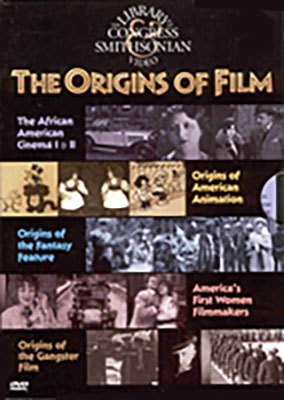 The Library of Congress /
Smithsonian Video
2001 DVD edition

The Origins of Film (1900-1927), black & white and color-toned black & white, 560 minutes total, not rated,
including The Enchanted Drawing (1900), black & white, ? minutes, not rated, Fun in a Bakery Shop (1902), black & white, ? minutes, not rated, Humorous Phases of Funny Faces (1906), black & white, ? minutes, not rated, The Narrow Road (1912), black & white, ? minutes, not rated, A House Divided (1913), black & white, ? minutes, not rated, How Men Propose (1913), black & white, ? minutes, not rated, Matrimony's Speed Limit (1913), black & white, ? minutes, not rated, A Florida Enchantment (1914), black & white, ? minutes, not rated, The Patchwork Girl of Oz (1914), black & white, ? minutes, not rated, Alias Jimmy Valentine (1915), black & white, ? minutes, not rated, Dreamy Dud: He Resolves Not to Smoke (1915), black & white, ? minutes, not rated, Keeping Up with the Joneses: Women's Styles (1915), black & white, ? minutes, not rated, Keeping Up with the Joneses: Men's Styles (1915), black & white, ? minutes, not rated, The Phable of a Busted Romance (1916), black & white, ? minutes, not rated, Bobby Bumps Starts a Lodge (1916), black & white, ? minutes, not rated, Krazy Kat Goes A-Wooing (1916), black & white, ? minutes, not rated, Krazy Kat — Bugologist (1916), black & white, ? minutes, not rated, Krazy Kat and Ignatz Mouse at the Circus (1916), black & white, ? minutes, not rated, Mr. Nobody Holme: He Buys a Jitney (1916), black & white, ? minutes, not rated, Never Again! (1916), black & white, ? minutes, not rated, The Phable of the Phat Woman (1916), black & white, ? minutes, not rated, The Dinosaur and the Missing Link: A Prehistoric Tragedy (1917), black & white, ? minutes, not rated, Mary and Gretel (1917), black & white, ? minutes, not rated, The Katzenjammer Kids: Police and Pie (1918), black & white, ? minutes, not rated, W.S.S. Thriftettes (1918), black & white, ? minutes, not rated, A.W.O.L.; or, All Wrong Old Laddiebuck (1919), black & white, ? minutes, not rated, Us Fellers: Dud Leaves Home (1919), black & white, ? minutes, not rated, Within Our Gates (1920), black & white, ? minutes, not rated, The Centaurs (1921), black & white, ? minutes, not rated, Gertie on Tour (1921), black & white, ? minutes, not rated, Too Wise Wives (1921), black & white, ? minutes, not rated, Sissle and Blake (1923), black & white, ? minutes, not rated, and The Scar of Shame (1927), black & white, ? minutes, not rated.

The Library of Congress/Smithsonian Video, distributed by Image Entertainment,
ID9807UMDVD, UPC 0-14381-98072-1.
Three single-sided, dual-layered, Region 1 NTSC DVD discs, 1.33:1 aspect ratio image in full-frame 4:3 (720 x 480 pixels) interlaced scan MPEG-2 format, ? Mbps average video bit rate, ? kbps audio bit rate, Dolby Digital 2.0 stereo and mono sound, English language intertitles, no foreign language subtitles, chapter stops; three plastic DVD trays in cardboard wraps in cardboard slipcase, $79.99.
Release date: 13 March 2001.
Country of origin: USA