Reviews of silent film releases on home video.
Copyright © 1999-2018 by Carl Bennett
and the Silent Era Company.
All Rights Reserved.
Dangerous Traffic
(1926)
This Goodwill Pictures production stars Francis X. Bushman Jr. as Ned Charters, a young newspaper reporter in a sleepy coastal California town who craves newsworthy action, only to have it arrive in the form of highjackers. Sister to a government agent, Helen Leonard (Mildred Harris) assists Charters in the investigation while falling in love.
All serial-style action, with its car chases, gunfire, kidnapping and fist fights, this film is campy fun to watch. Notice that continuity is not its strong suit as fleeing criminals race through neighborhoods, guns blazing, while their close-behind pursuers race through undeveloped land.
A good example of independent B-film productions, this film is one of the few surviving films featuring Charles Chaplin's first wife, Mildred Harris. — Carl Bennett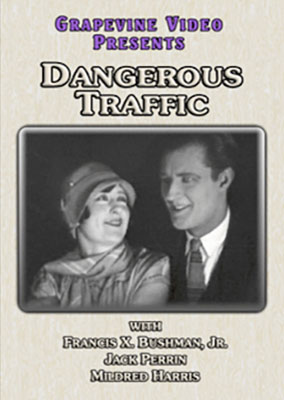 Grapevine Video
2009 DVD edition

Dangerous Traffic (1926), black & white, 53 minutes, not rated.

Grapevine Video, no catalog number, UPC 8-42614-10351-3.
One single-sided, single-layered, Region 0 NTSC DVD-R disc, 1.33:1 aspect ratio image in windowboxed 4:3 (720 x 480 pixels) interlaced scan MPEG-2 format, ? Mbps average video bit rate, ? kbps audio bit rate, PCM 2.0 mono sound, English language intertitles, no foreign language subtitles, 10 chapter stops; standard DVD keepcase, $11.95.
Release date: 19 June 2009.
Country of origin: USA

Ratings (1-10): video: 4 / audio: 4 / additional content: 0 / overall: 4.
This DVD-R edition has been mastered from a contrasty 16mm reduction print, with deep, detailess shadows, and some dust and speckling.
The soft full-frame video transfer appears to be an older analog master, with highlights from a previous shot taking approximately six frames (about a quarter of a second) to clear from the shadows of a following shot. Such anomalies were prevalent in budget videotape transfers from the 1980s. Interestingly, the reel change leader titles (normally edited out) have been left in the video transfer.
The film is accompanied by a score of preexisting orchestral film music recordings cobbled together to reflect the action of each scene.
This is the only known edition of Dangerous Traffic on DVD home video.
USA: Click the logomark to purchase this Region 0 NTSC DVD-R edition from Amazon.com. Your purchase supports the Silent Era website.
This Region 0 NTSC DVD-R edition is available directly from GRAPEVINE VIDEO.