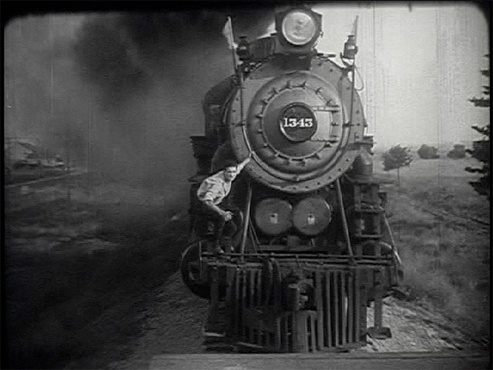 The 35mm print utilized for this DVD-R edition appears to be complete but is missing its main titles and ending titles, except that the presentation starts with a freeze-frame of the cast list. The heavily-worn print could have benefitted from a wet-gate video transfer to minimize the fine vertical scratches to the clear stock layer of the print that show up in the highlights of the picture. There is also a moderate amount of dust, emulsion scratches and chipping, print-processing defects, frame jumps, punch holes, and a few splices in the source print.
The video transfer is full frame and framed tight enough that the cast list and some of the letter inset shots will be cropped on some televisions, but most of the intertitles should remain readable. There is a very slight exposure flickering in the transfer on occasion, and from time to time either the left or the right side of the picture is slightly out of focus — the result of a nonprofessional video transfer. Yet, depite these shortcomings, the presentation remains of sufficient quality to be watchable without much viewer distraction. Often, the image details of the 35mm source print are well-reproduced, making this transfer better than other small home video company transfers from 16mm reduction prints.
The film is presented without a soundtrack, so viewers may need to put appropriate music on their stereo system to accompany the film while it is running.
Ultimately, the disc is worth the expense of its modest cost since this is likely to be the only home video edition of The Dixie Flyer available to silent film collectors.
This edition is now out-of-print; Golden Age Publishing LLC has discontinued business as a publisher of silent film home video.