Reviews of silent film releases on home video.
Copyright © 1999-2019 by Carl Bennett
and the Silent Era Company.
All Rights Reserved.

Little Lord
Fauntleroy
(1921)

Making the most of her famous golden curls, Mary Pickford gave audiences what they wanted in this well-executed adaptation of the classic tale by Frances Hodgson Burnett. Taking advantage of well-executed camera effects, Pickford chose to portray both the plucky American boy with the old-fashioned curls and his long-suffering mother, Dearest, as well.

The widow Errol has persevered to raise a young boy in New York City, obviously emphasizing the cultured values of kindness, empathy and charity. But young Cedric Errol is frustrated with the teasing he receives in the neighborhood for his Victorian curls and longs for the day he will be a shorn young man.

Making faster friends with neighborhood adults than with taunting children, Cedric boasts of the day he will be president of the United States and ease the daily trials of his struggling best friends, the grocer Mr. Hobbs, Dick the bootblack, and Mrs. McGinty the apple peddlar.

An English lawyer arrives with the news that Cedric's estranged grandfather, the Earl of Dorincourt, has lost his remaining son to a riding accident and reluctantly intends to bestow his estate upon the newly-conferred little Lord Fauntleroy.

Traveling to England together, Dearest is refused an audience with the gouted and cranky grandfather who blames her for the elopement and American emigration of his late younger son but who is reluctantly is won over by the vibrant and sincere personality of young Cedric.

When a golddigger proclaims herself to be the secret wife of the Earl's older son and her own young son the true heir to the Dorincourt estate, the family bonds to challenge the spurious claim. Cedric's friends from New York arrive with a surprise witness and the whole debacle ends with the fierce trouncing of the arrogant and spoiled false lord by the true Lord Fauntleroy.

While the film never approaches greatness, it is a sincere and very-pleasing Pickford vehicle, with a balanced mix of compassion, sadness, humor and defiance. Stephen Goosson's production design is prominently on display, and Mary Pickford, of course, stands out amid the able cast that includes film veterans Claude Gillingwater, James Marcus, Joseph Dowling and Kate Price. — Carl Bennett
The Milestone Collection
2005 DVD edition

Little Lord Fauntleroy (1921), color-toned black & white, 112 minutes, not rated.

Milestone Film & Video, distributed by Image Entertainment,
ID1976MLSDVD, UPC 0-14381-19762-4.
One single-sided, single-layered, Region 0 NTSC DVD disc, 1.33:1 aspect ratio inage in full-frame 4:3 (720 x 480 pixels) interlaced scan MPEG-2 format, 4.75 Mbps average video bit rate, ? kbps audio bit rate, Dolby Digital 2.0 stereo sound, English language intertitles, no foreign language subtitles, 16 chapter stops; standard DVD keepcase, $29.99.
Release date: 1 March 2005.
Country of origin: USA

Ratings (1-10): video: 8 / audio: 9 / additional content: 4 / overall: 8.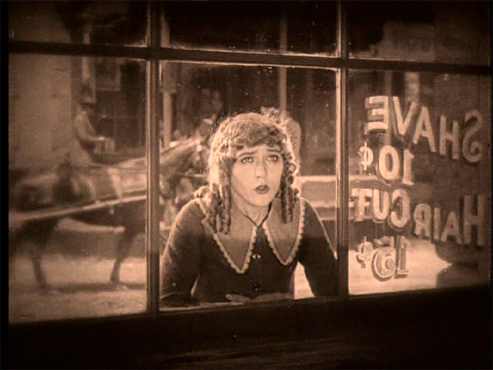 This first high-quality DVD edition of this Mary Pickford favorite has been mastered from very-good to mostly-excellent 35mm preservation elements from the Mary Pickford Institute for Film Education film collection, with some speckling, mild exposure fluctuations, occasional pronounced emulsion scuffing, and a couple of long scratches. The natural-speed full-frame video transfer, produced by Timeline Films, preserves the fine qualities of the source material, with controlled highlights and open shadow details, and a broad range of sepiatones in between.
The presentation features an excellent full-orchestral music score composed by Nigel Holton and conducted by Hugh Munro Neely, which makes for a very pleasant viewing experience.
The disc's lean supplemental materials includes a still gallery of production photographs, lobby cards and promotional materials (44 images), and a still gallery of Mary Pickford photos (28 images).
We highly recommend this well-produced edition of a classic Mary Pickford film.
USA: Click the logomark to purchase this Region 0 NTSC DVD edition from Amazon.com. Your purchase supports the Silent Era website.
Canada: Click the logomark to purchase this Region 0 NTSC DVD edition from Amazon.ca. Your purchase supports the Silent Era website.
This Region 0 NTSC DVD edition is also available directly from MILESTONE FILMS.