Reviews of silent film releases on home video.
Copyright © 1999-2018 by Carl Bennett
and the Silent Era Company.
All Rights Reserved.

Tempest
(1928)

John Barrymore stars with lovely Camilla Horn in this tale of revolutionary Russia directed by Sam Taylor (and others). Scripted by old Western potboiler C. Gardner Sullivan, with uncredited contributions by Erich von Stroheim and Lewis Milestone, this somewhat predictable romance still manages to buoy itself on the star qualities of its cast.

Sergeant Ivan Markov (Barrymore), recommended for an officer's commission by a jovial general (George Fawcett) despite his being peasant-born, makes an envious enemy of his smug, social climber captain (Ullrich Haupt). Markov is captivated at first glance by the general's daughter, Princess Tamara (Horn), but she is less than smitten when he makes his peasant feelings known to her.

Now commissioned as a lieutenant, Markov is shunned not only by elitist officers but Tamara as well at his first social event, her birthday party. Ivan gets drunk and is discovered, passed out, in Tamara's bedroom. Markov is placed under arrest by the now not-so-jovial general. Busted back down and sentenced to five years labor, Tamara begins to feel that she has wronged Ivan. She visits him in prison to acknowledge his feelings, but Ivan instead takes his opportunity to reject her.

His engagement to Tamara broken, the captain makes Markov's hellish captivity his mission in life. With war broken out and the prisoners being forced to the front, the captain arranges to keep Ivan in solitary confinement, away from both Tamara and possible military redemption.

With the passage of time and the arriving revolution, Markov is freed from prison by Bulba (Louis Wolheim) and a Socialist agitator (Boris de Fas), who has been prying Ivan away from his Czarist ties for years. Now prisoners of the Socialists, the general and the captain are among those being tried and executed. In hiding, Tamara emerges on a hunt for her father and is caught. Face-to-face with a vindictive Markov, Tamara's true feelings cause Ivan's heart to warm again. Now, how do they get out of this situation?

Barrymore is his usual romantic lead, with a moment of his eye-popping clownishness tossed in. Exceedingly sultry while seething, Camilla Horn manages to also convey humility and vulnerability when required. Ullrich Haupt is predisposed to be a smarmy monocled weasel in the man-you-love-to-hate mold, with his big ears and nose and his tiny eyes and teeth. His performance as the scheming captain is a menacing notch above others of the same ilk. Jaw-jutting Louis Wolheim (what a mug!) stands out as a comic-relief model for Victor McLaglen's supporting actor appearances in later John Ford films.

Tempest was the first Academy Award® recipient for Interior Decoration (Art Direction) for the work of William Cameron Menzies, and was a cinematography nominee for Charles Rosher, who worked some lens magic on Horn and Barrymore. — Carl Bennett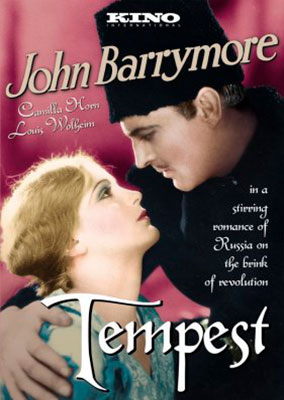 Kino International
2009 DVD edition

Tempest (1928), black & white, 111 minutes, not rated.

Kino International, K585, UPC 7-38329-05852-4.
One single-sided, dual-layered, Region 0 NTSC DVD disc, 1.33:1 aspect ratio image in full-frame and windowboxed 4:3 (720 x 480 pixels) interlaced scan MPEG-2 format, ? Mbps average video bit rate, ? kbps audio bit rate, Dolby Digital 2.0 mono sound, English language intertitles, no foreign language subtitles, 6 chapter stops; standard DVD keepcase, $24.95.
Release date: 7 July 2009.
Country of origin: USA

Ratings (1-10): video: 7 / audio: 4 / additional content: 0 / overall: 6.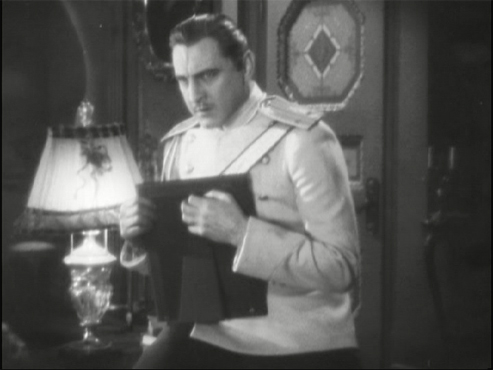 This DVD edition has been mastered from a 35mm preservation print (likely from the Paul Killiam collection) that is only very-good in quality. The new video transfer has been made in a framing combination of full-frame for cinematographic footage and windowboxed for the main titles and intertitles. As evidenced by existing timing marks at the end of reels, the video transfer (or the source material itself) is more tightly cropped than perhaps it should have been. Some dust, speckling, processing flaws, emulsion scuffing and scratches, and faint static discharge exposures are present, and picture details are soft and slightly contrasty. However, with the worst being said, the image quality is still often quite reasonable — even on high-definition systems — due to the new transfer.
The film is accompanied by a music score performed on piano by William P. Perry. While the analog optical-track audio is presented here in better quality than some of Perry's other recordings from the early 1970s reissued on DVD, the presentation of this film could have benefited from a new music score.
USA: Click the logomark to purchase this Region 0 NTSC DVD edition from Amazon.com. Your purchase supports the Silent Era website.
Canada: Click the logomark to purchase this Region 0 NTSC DVD edition from Amazon.ca. Your purchase supports the Silent Era website.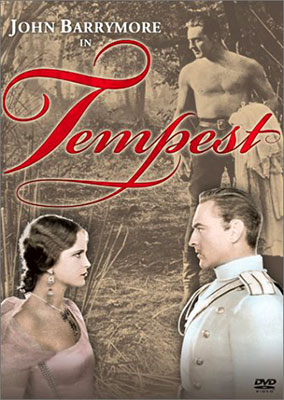 Image Entertainment
2003 DVD edition

Tempest (1928), black & white, 111 minutes, not rated.

Film Preservation Associates, distributed by Image Entertainment, ID1852DSDVD, UPC 0-14381-18522-5.
One single-sided, dual-layered, Region 0 NTSC DVD disc, 1.33:1 aspect ratio image in full-frame 4:3 (720 x 480 pixels) interlaced scan MPEG-2 format, ? Mbps average video bit rate, ? kbps audio bit rate, Dolby Digital 2.0 stereo and mono sound, English language intertitles, no foreign language subtitles, chapter stops; standard DVD keepcase, $24.99.
Release date: 8 July 2003.
Country of origin: USA