Reviews of silent film releases on home video.
Copyright © 1999-2018 by Carl Bennett
and the Silent Era Company.
All Rights Reserved.
The Vanishing
American
(1925)
Adapted from a Zane Grey novel, this story of the clash of the traditional and the modern stars Richard Dix, Lois Wilson and Noah Beery.
A companion to the later Redskin (1929), in which Dix again portrays a native American fighting the wrongs of the corrupt white man.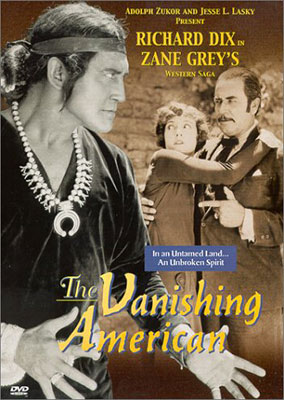 Image Entertainment
2000 DVD edition

The Vanishing American (1925), color-tinted black & white, 108 minutes, not rated.

Film Preservation Associates, distributed by Image Entertainment, ID9229DSDVD, UPC 0-14381-9229?-?.
One single-sided, single-layered, Region 0 NTSC DVD disc, 1.33:1 aspect ratio image in windowboxed 4:3 (720 x 480 pixels) interlaced scan MPEG-2 format, 4.5 Mbps average video bit rate, 192 kbps audio bit rate, Dolby Digital 2.0 stereo sound, English language intertitles, no foreign language subtitles, 16 chapter stops; snapper DVD case, $24.99.
Release date: 17 October 2000.
Country of origin: USA

Ratings (1-10): video: 7 / audio: 7 / additional content: 0 / overall: 7.