A growing source of silent era film information.
This listing is from The Progressive Silent Film List by Carl Bennett.
Copyright © 1999-2014 by Carl Bennett and the Silent Era Company.
All Rights Reserved.

About This Listing / Report Omissions or Errors in This Listing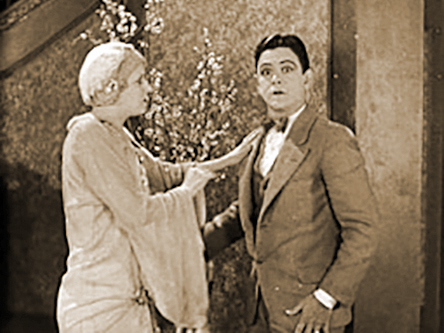 Vivien Oakland and Glenn Tryon.
Frame enlargement: Silent Era image collection.

Along Came Auntie


(1926) American
B&W : Short film
Directed by Fred L. Guiol

Cast: Glenn Tryon [the husband], Vivien Oakland [the wife], Oliver Hardy [Vincent Belcher, her first husband], Lucy Beaumont [Aunt Alvira], Tyler Brooke [the under-sheriff], Martha Sleeper [the maid]

Hal Roach Studios, Incorporated, production; distributed by Pathé Exchange, Incorporated [Pathécomedy]. / Supervising director, F. Richard Jones. Photographed (cinematography) by Floyd Jackman. Titles (intertitles) by H.M. Walker. Edited by Richard Currier. Presented by Hal Roach. / Standard 35mm spherical 1.37:1 format.

Comedy.

Survival Status: Print exists [possibly only in a combination of 35mm positive and 16mm reduction positive].

Listing updated: 21 July 2007.

References: Film credits, film viewing : Skretvedt-LaurelHardy p. 45.

Home video: DVD.