People active in the silent era and people who keep the silent era alive.
Copyright © 1999-2018 by Carl Bennett and the Silent Era Company.
All Rights Reserved.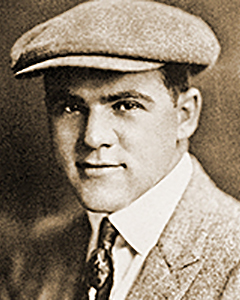 Photograph: Silent Era image collection.
Hal Roach
(same as Hal E. Roach)


Born 14 January 1892 in Elmira, New York, USA, as Harold Eugene Roach.
Died 2 November 1992 in Los Angeles, California, USA, of pneumonia.
Son of Charles and Mabel Roach.
Married actress Marguerite Nichols, September 1915; son, Hal Roach Jr., born 15 June 1918;
daughter, actress Margaret Roach, born 15 March 1921; until Marguerite's death, 17 March 1941.
Married Lucille Prin, 1 September 1942; daughter, Elizabeth Carson Roach, born 26 December 1945, died 5 September 1946; daughter, producer/writer Maria May Roach, born 14 April 1947; daughter, Jeanne Alice Roach, born 7 October 1949; and daughter, Kathleen Bridget Roach, born 29 January 1951); until Lucille's death, 4 April 1981.
Grandfather of actor/writer/assistant director Addison Randall.
Hal Roach began in entertainment after moving to Hollywood and getting extra work in the blossoming film industry. He met fellow actor Harold Lloyd and the two became fast friends. Soon, after observing how things were done in films, Roach and Lloyd determined to strike out on their own to make short comedies — Roach would produce (utilizing a recent inheritance) and Lloyd would star. Roach established the The Rolin Film Company with partner Dan Linthicum in 1915 and struck a long-standing distribution deal with Pathé Exchange, Incorporated.
The first Rolin productions featured Lloyd as a character named Lonesome Luke which was derivative of other film comedians' work and soon Lloyd settled on his new 'glasses' character. The success of the Lloyd films grew the company rapidly and Roach developed other stars, series and characters to expand the volume of product the studio was producing. Roach had a good story sense and often created screen stories and wrote scenarios for the early Rolin films. Among the talent that Roach discovered and developed in the Rolin years were actors Bebe Daniels, Snub Pollard, Stan Laurel, Charley Chase, Noah Young, Bud Jamison, Charles Stevenson, Sammy Brooks, Marie Mosquini, Lige Conley, Hughie Mack, Margaret Joslin, James Parrott, Sunshine Sammy Morrison, William Gillespie and Earl Mohan, and future directors Fred C. Newmeyer, Alf Goulding and Gil Pratt.
In 1920, the partnership of Hal Roach and Dan Linthicum was dissolved, and the assets of The Rolin Film Company were acquired by Hal Roach's new corporation, Hal Roach Studios, Incorporated. The new company continued their success, further expanded their series of shorts films, and continued distribution through Pathé. In the first years of the 1920s, Roach continued with Lloyd films, which were the flagship product of the company, and created new series and developed new stars. In 1922, Roach created what would become known as the Our Gang series, two-reel films that celebrated the playfulness and invention of children in the pursuit of fun. The series became immensely popular and launched the careers of several child stars, including Mickey Daniels, Joe Cobb, Mary Kornman, Jackie Condon, Allen 'Farina' Hoskins, Ernie 'Sunshine Sammy' Morrison, Jean Darling, Jay R. Smith, Bobby Hutchins, Harry Spear, Mary Ann Jackson and others.
Roach and Harold Lloyd amicably parted ways in 1923, as Lloyd desired to have more control over his films and continue to expand into feature films. Roach sought to replace his cornerstone star and experimented with new genres, players and comedy teams. In 1922, Roach had signed popular vaudeville star Will Rogers, fresh off his Goldwyn feature film contract, to a series of short satires based on his observational humor. In 1922 and 1923 Roach experimented with the production of serials. During this period Roach hired actors Oliver Hardy, Harry Langdon, James Finlayson, Mabel Normand, Max Davidson, Bull Montana, Leo White, Creighton Hale, Lillian Rich, George Rowe, Martha Sleeper, Clyde Cook, Glenn Tryon, Paul Parrott, Charles Murray, Lucien Littlefield, Katherine Grant and Fay Wray, and directors Leo McCarey, Robert F. McGowan, Anthony Mack (Robert A. McGowan) and Rob Wagner. Hal even experimented with the production of feature-length westerns. However, Roach's master stroke was the teaming of two comedians who had been off-and-on players on the Roach lot for years. In late 1926, Stan Laurel and Oliver Hardy were officially teamed for the first time (even though they had appeared in the same film a number of times over the years beginning with The Lucky Dog, which was shot in 1919). The comedy team turned out to be Roach's third goldmine (Lloyd, Our Gang, Laurel and Hardy) as Stan and Ollie became fast fan favorites.
In 1927, Roach's long-time affiliation with distributor Pathé Exchange ended. He negotiated a new distribution contract with film distributor, Metro-Goldwyn-Mayer Distributing Corporation. With the advent of sound films, Roach helped MGM's slow transition to sound production with a series of short sound films including Laurel and Hardy's Berth Marks (1929), Charley Chase's The Big Squawk (1929) and Our Gang's Small Talk (1929) and Lazy Days (1929).
Hal Roach films continued to be produced well into the sound era of the 1930s, and Laurel and Hardy buoyed the company's continued success, but in 1938 Roach sold his short comedy creative assets and player contracts to MGM. The Roach company continued feature film production through 1940, including Of Mice and Men (1939).
Hal Roach lived to be 100 years old.
References: Website-IMDb; Website-Wikipedia.