A growing source of silent era film information.
This listing is from The Progressive Silent Film List by Carl Bennett.
Copyright © 1999-2014 by Carl Bennett and the Silent Era Company.
All Rights Reserved.

About This Listing / Report Omissions or Errors in This Listing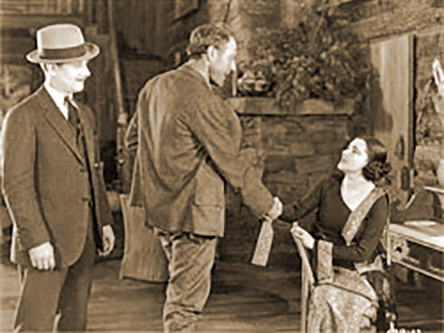 Nita Naldi (right).
Photograph: Silent Era image collection.

The Breaking Point


(1924) American
B&W : Seven reels / 6664 feet
Directed by Herbert Brenon

Cast: Nita Naldi [Beverly Carlysle], Patsy Ruth Miller [Elizabeth Wheeler], George Fawcett [Doctor David Livingstone], Matt Moore [Judson Clark], John Merkyl [William Lucas], Theodore von Eltz [Fred Gregory], Edythe Chapman [Lucy Livingstone], Cyril Ring [Louis Bassett], W.B. Westcott (Westcott Clarke) [Sheriff Wilkins], Edward Kipling [Joe], Milt Brown (Milton Brown) [Donaldson], Charles Stevenson [Harrison Wheeler], Naida Faro [Minnie]

Famous Players-Lasky Corporation production; distributed by Paramount Pictures Corporation. / Scenario by Edfrid Bingham and Julie Herne, from the novel The Breaking Point by Mary Roberts Rinehart. Cinematography by James Howe (James Wong Howe). Presented by Adolph Zukor and Jesse L. Lasky. / © 23 April 1924 by Famous Players-Lasky Corporation [LP20114]. Released 4 May 1924. / Standard 35mm spherical 1.37:1 format.

Drama: Mystery.

Survival status: Print exists in the Library of Congress film archive [35mm positive].

Current rights holder: (unknown)

Listing updated: 18 November 2007.

References: Drew-Speaking p. 280 : Website-AFI : with additional information supplied by Scott Simmon.