A growing source of silent era film information.
This listing is from The Progressive Silent Film List by Carl Bennett.
Copyright © 1999-2014 by Carl Bennett and the Silent Era Company.
All Rights Reserved.

About This Listing / Report Omissions or Errors in This Listing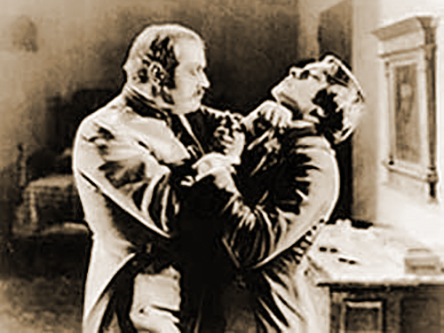 Richard Barthelmess (right).
Photograph: Silent Era image collection.


The Bright Shawl


(1923) American
B&W : Eight reels
Directed by

Cast: Richard Barthelmess [Charles Abbott], André de Béranger (André Beranger) [Andre Escobar], Mary Astor [Narcissa Escobar], E.G. Robinson (Edward G. Robinson) [Domingo Escobar], Margaret Seddon [Carmencita Escobar], Luis Alberni [Vincente Escobar], Anders Randolf [Captain Cesar Y Santacilla], William Powell [Gaspar De Vaca], Dorothy Gish [La Clavel], Jetta Goudal [La Pilar], George Humbert [Jaime Quintara]

Inspiration Pictures, Incorporated, production; distributed by Associated First National Pictures, Incorporated. / Produced by Charles H. Duell. Scenario by Edmund Goulding, from the novel The Bright Shawl by Joseph Hergesheimer. Art direction by Everett Shinn. Cinematography by George Folsey. Edited by William Hamilton. / Released 22 April 1923. / Standard 35mm spherical 1.37:1 format. / The production was shot in Cuba. Robinson's film debut; Powell's fourth film; Astor's eighth film.

Drama: Historical.

Survival status: Print exists in the UCLA Film and Television Archive film archive [35mm positive].

Current rights holder: (unknown)

Keywords: Cuba - History: USA: Spanish-American War (1898)

Listing updated: 7 January 2004.

References: Katchmer-Eighty pp. 20-21; Pitts-Hollywood p. 215; Quirk-Powell pp. 18, 40-43, 53; Sherwood-Best p. 158; Vermilye-Twenties p. 57; Weaver-Twenty p. 145 : ClasIm-302 p. 10 : Website-IMDb.