A growing source of silent era film information.
This listing is from The Progressive Silent Film List by Carl Bennett.
Copyright © 1999-2014 by Carl Bennett and the Silent Era Company.
All Rights Reserved.

About This Listing / Report Omissions or Errors in This Listing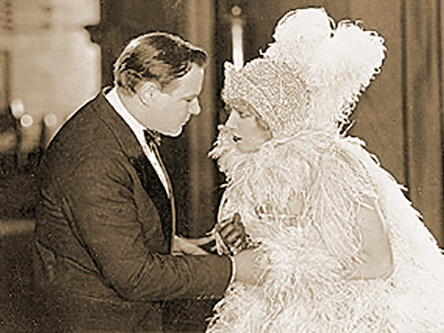 Gilda Gray (right).
Photograph: Silent Era image collection.


Cabaret


(1927) American
B&W : Seven reels / 6947 feet
Directed by Robert G. Vignola

Cast: Gilda Gray [Gloria Trask], Tom Moore [Detective Tom Westcott], Chester Conklin [Jerry Trask], Mona Palma [Blanche Howard], Jack Egan [Andy Trask], William Harrigan [Jack Costigan], Charles Byer [Sam Roberts], Anna Lavsa [Mrs. Trask]

Famous Players-Lasky Corporation production; distributed by Paramount Pictures Corporation. / Scenario by Becky Gardiner, from a screen story by Owen Davis. Cinematography by Harry A. Fischbeck. Intertitles by Jack Conway. Presented by Adolph Zukor and Jesse L. Lasky. / © 26 March 1927 by Famous Players-Lasky Corporation [LP23791]. Released 26 March 1927. / Standard 35mm spherical 1.37:1 format. / Silent film.

Drama: Crime.

Survival status: (unknown)

Current rights holder: (unknown)

Keywords: Cabarets - Crime: Murder - Criminals: Gangsters, Murderers - Dancers - Families: Brother-sister relationships - Death: Murder - Law: Enforcement: Police: Detectives - USA: New York: New York -Weapons: Guns

Listing updated: 2 October 2008.

References: Website-AFI.