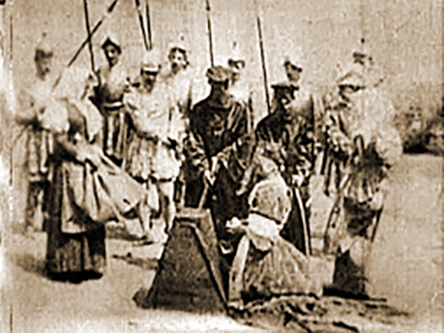 Frame enlargement: Silent Era image collection.


The Execution of Mary, Queen of Scots


Also known as [The Execution of Mary Stuart], [Mary, Queen of Scots], [Execution]
(1895) American
B&W : 27 feet
Directed by Alfred Clark

Cast: Robert Thomae [Mary, Queen of Scots], [?] Mrs. R.L. Thomas?

Edison Manufacturing Company production; distributed by [?] Raff & Gammon? / Cinematography by William Heise. / No copyright registration. / Kinetoscope 35mm spherical 1.33:1 format. / The production was shot on 28 August 1895 [?] outside? the Edison Black Maria studio in West Orange, New Jersey.

Drama-Trick film.

Survival status: Print exists in the International Museum of Photography and Film at George Eastman House film archive; in the Museum of Modern Art film archive; and in the Library of Congress film archive.

Current rights holder: Public domain.

Listing updated: 21 March 2012.

References: Film viewing : Bardèche-History p. 12; Bohn-Light p. 12; Coe-History p. 63; Fell-History p. 13; Magliozzi-Treasures n. 3659; Musser-Emerge pp. 86-87, 601; Shipman-Cinema p. 14; Shirley-Australian p. 10; Sklar-Movie pp. 21, 22, 51, 56 : Website-LoC.

Home video: DVD.