A growing source of silent era film information.
This listing is from The Progressive Silent Film List by Carl Bennett.
Copyright © 1999-2014 by Carl Bennett and the Silent Era Company.
All Rights Reserved.

About This Listing / Report Omissions or Errors in This Listing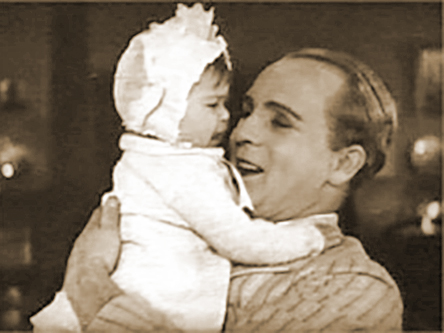 Bobby Vernon (right).
Frame enlargement: Silent Era image collection.

His Angel Child


(1929) American
B&W : One reel
Directed by [?] Frank Conklin (Frank Roland Conklin)?

Cast: Bobby Vernon [Jerry], Margaret Lee [Betty, his wife], Molly Malone [the mother from next door], Bill Blaisdell [Betty's father]

Christie Film Company, Incorporated, production; distributed by Paramount Famous Lasky Corporation [A Paramount-Christie Comedy]. / Produced by [?] Al Christie? From a screen story by Frank Conklin (Frank Roland Conklin). / Standard 35mm spherical 1.37:1 format. / Silent film.

Comedy.

Survival status: Print exists [35mm positive print].

Current rights holder: (unknown)

Keywords: Babies - Bungalows - Families: Fathers - Police: Policemen

Listing updated: 3 March 2011.

References: Film credits, film viewing : Website-IMDb.

Home video: DVD.