A growing source of silent era film information.
This listing is from The Progressive Silent Film List by Carl Bennett.
Copyright © 1999-2014 by Carl Bennett and the Silent Era Company.
All Rights Reserved.

About This Listing / Report Omissions or Errors in This Listing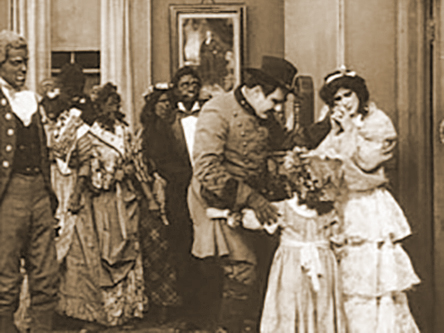 Wilfred Lucas (far left), Dell Henderson (center),
Edith Haldeman, and Claire McDowell (right).
Frame enlargement: Silent Era image collection.


His Trust


(1911) American
B&W : One reel / 996 feet
Directed by D.W. Griffith

Cast: Wilfred Lucas [George, the trusted servant], Dell Henderson [Colonel Frazier, a Confederate officer], Claire McDowell [Mrs. Frazier, his wife], Edith Haldeman [their daughter], Guy Hedlund [a Frazier servant (in blackface)], [?] Kate Toncray? [a Frazier servant (in blackface)], [?] Adolph Lestina? [a Frazier servant (in blackface)], W. Chrystie Miller [?] [old Frazier servant (in blackface)?; and among Union farewell crowd], Alfred Paget [a messenger; and a Confederate soldier], Francis J. Grandon [a Confederate soldier], Adolph Lestina [a Confederate soldier], Joseph Graybill [a Union soldier], W.C. Robinson [a Union soldier], Mack Sennett [a Union soldier], Jeanie Macpherson [among Union farewell crowd], Lottie Pickford [among Union farewell crowd], Vivian Prescott [among Union farewell crowd], Charles H. West [among Union farewell crowd]

Biograph Company production; distributed by Biograph Company. / Scenario by Emmett Campbell Hall. Cinematography by G.W. Bitzer. / © 11 January 1911 by Biograph Company. Released 16 January 1911. / Standard 35mm spherical 1.37:1 format. / Subtitled: The Faithful Devotion and Self-Sacrifice of An Old Negro Servant. Part one of an intended two-reel picture. The film has main titles and intertitles. Followed by His Trust Fulfilled (1911). The film was rereleased in the USA as a two-reel film with His Trust Fulfilled by Biograph Company on 4 July 1916.

Drama: Historical: Civil War.

Synopsis: [From Biograph promotional materials] "His Trust" is the first part of a life story, the second part being "His Trust Fulfilled," and while the second part is the sequel to the first, each part is a complete story in itself. The master, leaving home at the opening of the war to join the Confederate Army, tells his body-servant to take good care of his wife and child. The master is killed in battle; the home is sacked and burned, leaving the woman and child homeless, and the old negro, faithful to his trust, gives up his little cabin for their comfort. The only thing saved from the wreckage was the master's sword.

Survival status: Prints exist in the Museum of Modern Art film archive [35mm nitrate negative]; in the Academy Film Archive film archive (Film Preservation Associates collection) [35mm nitrate positive]; and in the Library of Congress film archive (paper print collection) [35mm paper positive].

Current rights holder: Public domain.

Keywords: African-Americans - Animals: Horses - Battlefields - Battles - Blackface - Blankets - Cabins - Children - Confederacy - Cots - Crimes: Arson - Death - Devotion - Farewells - Fences - Fire - Fireplaces - Flags: American, Confederate - Furniture: Chairs: Rocking - Grief - History: USA: American Civil War (1861-1865) - Houses - Marches - Nuns - Nurses - Pillage - Rescues - Retreats - Rocking chairs - Self-sacrifice - Servants - Slaves - Smoke - Soldiers: Confederate, Union - Steps - Uniforms - Vows - Weapons: Cannons, Guns, Rifles, Swords

Listing updated: 24 March 2012.

References: Film credits, film viewing : Barry-Griffith p. 42; Bohn-Light pp. xix, 51; Everson-American pp. 50-51; Fell-History pp. 56, 58; Niver-First p. 150; Shirley-Australian p. 19; Spehr-American p. 2; Usai-Griffith-4 p. 246.

Home video: DVD.