People active in the silent era and people who keep the silent era alive.
Copyright © 1999-2018 by Carl Bennett and the Silent Era Company.
All Rights Reserved.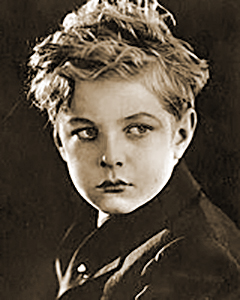 Photograph: Silent Era image collection.
Ben Alexander
(same as Bennie Alexander, Benny Alexander)
Born 26 May 1911 in Goldfield, Nevada, USA, as Nicholas Benton Alexander.
Died 5 July 1969 in Hollywood, California, USA, of natural causes.
Married Leslie Alexander.
Ben Alexander began his acting career as a child actor. Alexander worked for Reliance Motion Picture Corporation (1916), The Universal Film Manufacturing Company, Incorporated (1917), Mary Pickford Film Corporation (1917), Famous Players-Lasky Corporation (1918), The Selig Polyscope Company, Incorporated (1918), The Al Jennings Production Company (1918), Harry Garson Productions (1919), Brentwood Film Corporation (1919), Clara Kimball Young Film Corporation (1919), Maurice Tourneur Productions, Incorporated (1919), King Vidor Productions (1920), J.K. McDonald Productions (1923), The Vitagraph Company of America (1925), Madeline Brandeis Productions (1925) and Rayart Pictures Corporation (1926).
Alexander achieved latter-day fame as Detective Frank Smith in the original 1950s run of the television series, Dragnet, with Jack Webb. Concurrently, Alexander owned a Ford car dealership in Los Angeles, which he owned until his death.
References: Website-IMDb.