People active in the silent era and people who keep the silent era alive.
Copyright © 1999-2018 by Carl Bennett and the Silent Era Company.
All Rights Reserved.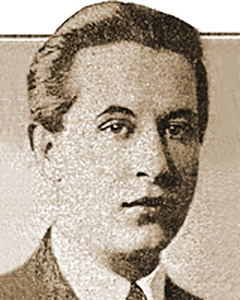 Photograph: courtesy Cynthia Gallaher.
Donald Gallaher
(same as D. Gallagher, Don Gallagher, Donald Gallagher)
Born 25 June 1895 in Quincy, Illinois, USA.
Died 14 August 1961 in Los Angeles, California, USA.
Married actress Beatrice Noyes, 1917; son, Donald Gallaher Jr., born 1918; divorced.
Married Louise ?; son, Tony Gallaher; divorced.
Married Virginia ?; son, Dennis Gallaher; son, Terry Gallaher; daughter, Kelly Gallaher, born 1947.
Before Donald Gallaher's career in silent film, he was one of the highest-paid juvenile actors on the Broadway stage. He was discovered in Chicago at age four by showman Charles Frohman, who hosted Donald and his mother Grace Dennison in their move to New York City. Donald made his Broadway debut in 1900 in A Royal Family.
He appeared as one of the children in the landmark silent film The Great Train Robbery (1903), and was featured on Broadway, in national touring companies, and in summer stock through his teens in Snow White as the Prince; Alice in Wonderland as the White Rabbit; O. Henry's Alias Jimmy Valentine, the hit play of 1910; Our Mrs. McChesney with Ethel Barrymore; George M. Cohan's So This is London; Golden Days with Helen Hayes; and The Blue Flame with Theda Bara, among others.
As a young man, Donald landed more roles in silent films. He was featured as a romantic lead in a variety of Thanhouser films (circa 1914), including the serial The Million Dollar Mystery (1914); and he also appeared in Selznick's The Silent Master (1917) with Robert Warwick, Metro Pictures Corporation's Draft 258 (1917) with Erich von Stroheim and Eye for Eye (1918) with Nazimova; and in The Eternal Magdalene (1919) for Goldwyn. Gallaher also appeared in Love's Old Sweet Song (1923) for Norca Pictures.
Donald Gallaher also tried his hand at writing, producing and directing Broadway plays, including The Gorilla and Shh, the Octopus in the late 1920s. His directorial work on Broadway attracted the attention of Fox Films in Hollywood, where he directed and appeared in a few early talkies featuring such actors as Mae Clarke (grapefruit-in-the-face actress in James Cagney's Public Enemy) and Rex Bell, husband of Clara Bow. Donald's film, Temple Tower (1930), is among the 250 films specially preserved from nitrate destruction at the UCLA Film and Television Archive. He is sometimes listed as Donald Gallagher in his film credits.
With the onset of the Great Depression, both Donald's film and stage career stalled until he was able to join forces with the Federal Theatre Project in New York, where he served as an associate managing producer.
Returning to Hollywood at the end of the 1930s, he appeared in a few 'B' westerns, and worked as Bing Crosby's dialogue director at Paramount Pictures. He also appeared in George Cukor's Keeper of the Flame (1942) with Spencer Tracy and Katherine Hepburn.
— Biography by Cynthia Gallaher