People active in the silent era and people who keep the silent era alive.
Copyright © 1999-2018 by Carl Bennett and the Silent Era Company.
All Rights Reserved.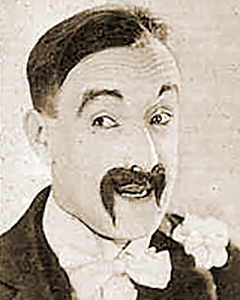 Photograph: Silent Era image collection.
Snub Pollard
(same as Harry Pollard and Peewee Pollard)
Born 9 November 1889 in Melbourne, Victoria, Australia, as Harold H. Fraser.
Died 19 January 1962 in Burbank, California, USA, of cancer.
Married Elizabeth [?] ?, in California.
Snub Pollard began in vaudeville and, after touring with an Australian company, decided to stay in the USA to further pursue his entertainment career. Attributions that he was the brother of actress Daphne Pollard are erroneous as they appeared together in Pollard's Lilliputian Opera Company vaudeville troupe in Australia, and both adopted the Pollard name professionally. He is not to be confused with actor and director Harry A. Pollard.
Pollard's film work began for Essanay Film Manufacturing Company in 1911, and apparently enjoyed a bried turn as a Keystone Kop before hooking up with Hal Roach at The Rolin Film Company as Harold Lloyd's sidekick in the Lonesome Luke films. With the ongoing evolution of Lloyd's glasses character, a sidekick foil was not needed and in 1918 Roach tested Snub as a starring character in what became an ongoing series of one-reel and two-reel comedies through to 1924, when Pollard left Hal Roach Studios, Incorporated. Pollard worked for his own self-named production company briefly in 1926.
Small roles were his mainstay throughout the early 1930s, and bit roles continued sporatically through the 1950s.
References: Website-IMDb; Website-Wikipedia.