People active in the silent era and people who keep the silent era alive.
Copyright © 1999-2018 by Carl Bennett and the Silent Era Company.
All Rights Reserved.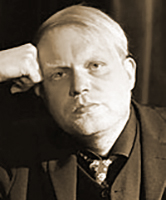 Photograph: courtesy Ekkehard Wölk.
Ekkehard Wölk
Born 14 June 1967 in Schleswig, Germany.
Ekkehard Wölk is a pianist, arranger and composer from Germany. As far as cinema concerned, he is a composer and accompanist for silent films. His style consists of a personal interpretation of classical music from the view of a jazz improviser. He has composed music scores for several films of the German silent cinema — most notably for F.W. Murnau films. Two of his works for German films have been released on DVD home video by Kino International: Secrets of a Soul (1926) directed by G.W. Pabst (released 2009), and The Finances of the Grand Duke (1924) directed by Murnau (released 2008), which was also broadcast in Germany by Arte Television in December 2008.
Wölk was born on 14 June 1967 in Schleswig, Germany, and began his piano training at the age of seven in the classical tradition of Leschetitzky and his famous adepts Artur Schnabel and Edwin Fischer. Eventually, Wölk studied with emphasis on the major works of Bach, Beethoven, Brahms and Debussy. After graduating from high school, in 1987, he studied historical and systematic musicology at the University of Hamburg, and later studied at the Humboldt University in Berlin.
From 1988 Wölk studied classical piano at the conservatories in Hamburg and Lubeck, graduating in 1994 as a concert pianist and music pedagogue. Ekkehard wrote his first jazz compositions at the age of twenty-two, and at first, his primary jazz influence was Bill Evans, but he later also studied Bud Powell, McCoy Tyner, Thelonious Monk, Ahmad Jamal, Art Tatum, and specifically Fred Hersch who, many years later, became his master teacher in New York City.
In 1995, Wölk moved to Berlin and worked as a composer and bandleader, developing creative projects mostly in the jazz field. He has worked as a jazz and classical teacher, as an arranger, and as a flexible accompanist for many jazz singers, as well as in the classical and musical show genres. He has also worked in live theatre as an accompanist, notably, for the Brecht Theatre Berliner Ensemble.
Ekkehard Wölk has released five albums as a pianist and arranger in Germany and Italy: A Meeting of Two American Giants — Gershwin/Bernstein (JB Records, 2001); the trio album, Songs, Chorals and Dances (2005); a solo album, Reflections on Mozart (2006); Desire for Spring (Splasc(H) Records, 2007); and Homage to Nino Rota (2008) — (some of these albums are available at www.nabelrecords.de). He has performed with his trio for several live radio recordings, mostly original compositions under the title Pictures in Sounds, for well-known German broadcasting stations in Berlin and Munich. A June 2009 broadcast by the Wölk quartet was dedicated to the films of Alfred Hitchcock.
In 2005, Wölk was invited by the former director of the F.W. Murnau Foundation, Friedemann Beyer to compose and perform music scores for selected Murnau films. In addition to the two commercially-released titles from this period, Wölk composed music in 2007 for Murnau's Faust (1926), a score that he considers his best work, which has not yet been released on DVD. Among the other films he has composed and performed live piano accompaniment for are Murnau's Nosferatu (1922), The Last Laugh (1924) and Tartüff (1926), Fritz Lang's The Woman in the Moon (1929), Robert Siodmak, Edgar G. Ulmer, Billy Wilder and Fred Zinnemann's People on Sunday (1929), Ernst Lubitsch's The Wildcat (1921), and also for some of the great American comedies by Buster Keaton, Charles Chaplin and Harold Lloyd.
— Ehsan Khoshbakht