Reviews of silent film releases on home video.
Copyright © 1999-2018 by Carl Bennett
and the Silent Era Company.
All Rights Reserved.
Cut to the Chase
The Charley Chase Collection
(1924-1926)
Contents: April Fool (1924), The 'Fraidy Cat (1924), Bad Boy (1925), The Caretaker's Daughter (1925), Innocent Husbands (1925), Isn't Life Terrible? (1925), The Uneasy Three (1925), What Price Goofy? (1925), Be Your Age (1926), Bromo and Juliet (1926), Dog Shy (1926), Charley My Boy! (1926), Long Fliv the King (1926), Mama Behave (1926), Mighty Like a Moose (1926) and Mum's the Word (1926).
This collection's line-up of silent era Charley Chase films largely duplicates those of previous home video editions, but there are a few home video upgrades and previously unreleased films.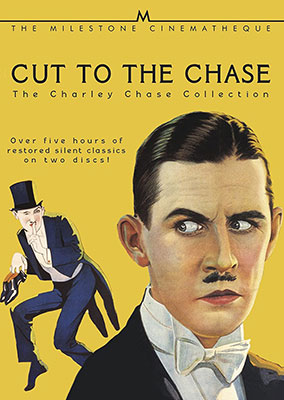 The Milestone Cinematheque
2011 DVD edition

Cut the the Chase: The Charley Chase Collection (1924-1926), black & white, 303 minutes total, not rated,
including April Fool (1924), black & white, 11 minutes, not rated, The 'Fraidy Cat (1924), black & white, 12 minutes, not rated, Bad Boy (1925), black & white, 19 minutes, not rated, The Caretaker's Daughter (1925), black & white, 20 minutes, not rated, Innocent Husbands (1925), black & white, 21 minutes, not rated, Isn't Life Terrible? (1925), black & white, 21 minutes, not rated, The Uneasy Three (1925), black & white, 22 minutes, not rated, What Price Goofy? (1925), black & white, 23 minutes, not rated, Be Your Age (1926), black & white, 22 minutes, not rated, Bromo and Juliet (1926), black & white, 23 minutes, not rated, Dog Shy (1926), black & white, 22 minutes, not rated, Charley My Boy! (1926), black & white, 26 minutes, not rated, Long Fliv the King (1926), black & white, 23 minutes, not rated, Mama Behave (1926), black & white, 22 minutes, not rated, Mighty Like a Moose (1926), black & white, 23 minutes, not rated, and Mum's the Word (1926), black & white, 21 minutes, not rated.

Milestone Film & Video, distributed by Oscilloscope Laboratories,
Mile00118, UPC 7-84148-01184-4, ISBN 978-1-933920-14-6.
Two single-sided, dual-layered, Region 0 NTSC DVD discs, 1.33:1 aspect ratio image in windowboxed and full-frame 4:3 (720 x 480 pixels) interlaced scan MPEG-2 format, ? Mbps average video bit rate, ? kbps audio bit rate, Dolby Digital 2.0 stereo sound, English language intertitles, no foreign language subtitles, chapter stops; two-disc standard DVD keepcase, $29.95.
Release date: 2011.
Country of origin: USA