A growing source of silent era film information.
This listing is from The Progressive Silent Film List by Carl Bennett.
Copyright © 1999-2014 by Carl Bennett and the Silent Era Company.
All Rights Reserved.

About This Listing / Report Omissions or Errors in This Listing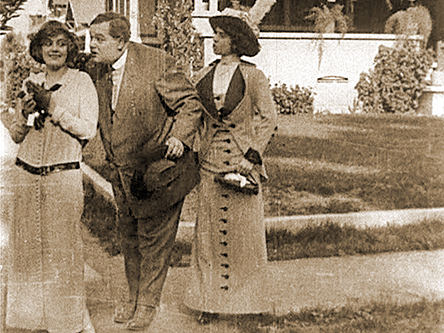 Virginia Kirtley (left), Roscoe Arbuckle and
Minta Durfee.
Frame enlargement: Silent Era image collection.


A Flirt's Mistake


(1914) American
B&W : Split-reel
Directed by George Nichols

Cast: Roscoe Arbuckle, Minta Durfee, Virginia Kirtley, [?] Edgar Kennedy?

The Keystone Film Company production; distributed by Mutual Film Corporation. / Produced by Mack Sennett. / No copyright registration. Released 12 January 1914; in a split-reel with Moscow and Its Environs (1914). / Standard 35mm spherical 1.37:1 format. / Working title: The Hindoo. [?] Completed or shipped? on 18 December 1913.

Comedy.

Survival status: Print exists.

Current rights holder: Public domain.

Listing updated: 17 February 2012.

References: Film viewing : Edmonds-Arbuckle p. 249; Lahue-Kops p. 143; Lahue-Mack p. 294 : Website-IMDb.

Home video: DVD.