A growing source of silent era film information.
This listing is from The Progressive Silent Film List by Carl Bennett.
Copyright © 1999-2014 by Carl Bennett and the Silent Era Company.
All Rights Reserved.

About This Listing / Report Omissions or Errors in This Listing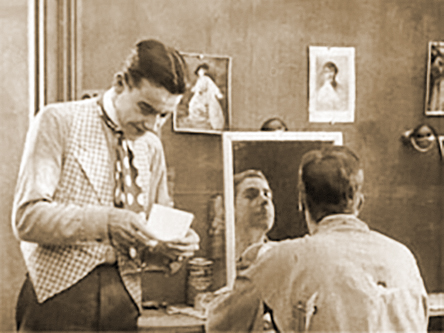 Johnny Hines (left) and Robert Warwick.
Frame enlargement: Silent Era image collection.


A Girl's Folly


Also known as A Movie Romance in the USA
(1917) American
B&W : Five reels
Directed by Maurice Tourneur

Cast: Robert Warwick [Kenneth Driscoll, a motion picture idol], June Elvidge, Doris Kenyon [Mary Baker], Johnny Hines [Hank, another popular star], Chester Barnett [Johnny Applebloom], Jane Adair [Mrs. Baker], Leatrice Joy, Josef von Sternberg [cameraman], Maurice Tourneur [on movie set], [?] Emilé Chautard?

Paragon Films, Incorporated, production; distributed by World Film Corporation [World Pictures Brady-Made]. / Scenario by Frances Marion and Maurice Tourneur, from a screen story by Frances Marion and Maurice Tourneur. Assistant director, Clarence L. Brown (Clarence Brown). Photographed (cinematography) by John van den Broek. Edited by Clarence L. Brown (Clarence Brown). Presented by William A. Brady. / © 7 February 1917 by World Film Corporation [LU10167]. Released 26 February 1917. / Standard 35mm spherical 1.37:1 format. / Working title: A Movie Romance. [?] Modern sources credit Ben Carré as the art director. An abridged version of the film was sold to the home collector's market as A Movie Romance.

Comedy-Drama.

Synopsis: Synopsis available in AFI-F1 n. F1.1614.

Survival status: Prints exist in the film holdings of Film Preservation Associates (Blackhawk Films collection) [abridged 35mm A Movie Romance version]; and in private film collections [16mm reduction positives].

Current rights holder: Public domain.

Keywords: Actors - African-Americans - Movies - USA: New Jersey: Fort Lee

Listing updated: 8 February 2011.

References: Film credits, film viewing : AFI-F1 n. F1.1614; Drew-Speaking p. 275 : with additional information provided by Bruce Calvert.

Home video: DVD.