A growing source of silent era film information.
This listing is from The Progressive Silent Film List by Carl Bennett.
Copyright © 1999-2014 by Carl Bennett and the Silent Era Company.
All Rights Reserved.

About This Listing / Report Omissions or Errors in This Listing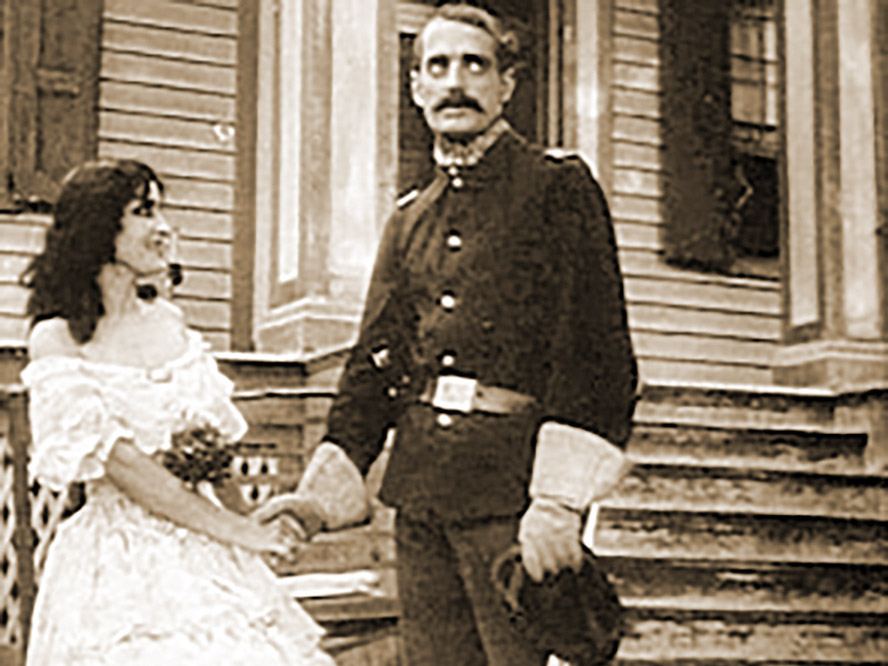 Claire McDowell and Charles H. West.
Frame enlargement: Silent Era image collection.


Swords and Hearts


(1911) American
B&W : One reel
Directed by D.W. Griffith

Cast: Wilfred Lucas [Hugh Frazier, a Confederate soldier], Claire McDowell [Irene Lambert], Dorothy West [Jennie Baker], William J. Butler [Old Ben, the Baker servant], Charles H. West [Irene's suitor, a Union soldier], Francis J. Grandon [Mr. Baker, Jennie's father], Verner Clarges [Mr. Frazier, Hugh's father], Kate Bruce [woman on porch at the Lambert house], Donald Crisp [man on steps of the Frazier house; and a bushwhacker], Guy Hedlund [man at the Frazier house; and a Union soldier], J. Jiquel Lanoe [a Union soldier; and a bushwhacker], Alfred Paget [a Union soldier], Frank Evans [a bushwhacker], Charles Hill Mailes [a bushwhacker], W.C. Robinson [a bushwhacker], Lionel Barrymore, W. Chrystie Miller, Florence La Badie

Biograph Company production; distributed by The General Film Company, Incorporated. / Scenario by Emmett C. Hall. Cinematography by G.W. Bitzer. / © 30 August 1911 by Biograph Company. Released 28 August 1911. / Standard 35mm spherical 1.37:1 format. / The film was rereleased in the USA by Biograph Company on 1 May 1916.

Drama: Historical: Civil War.

Survival status: Prints exist in the Museum of Modern Art film archive [35mm nitrate negative]; and in the National Film and Television Archive of the British Film Institute film archive [35mm nitrate positive].

Current rights holder: Public domain.

Keywords: Animals: Horses - History: USA: American Civil War (1861-1865) - Impersonation - Weapons: Guns

Listing updated: 15 October 2011.

References: Film credits, film viewing : Barry-Griffith p. 43; Spehr-American p. 3; Usai-Griffith-5 p. 110 : Website-IMDb : Documentary-Beecher.

Home video: DVD.