A growing source of silent era film information.
This listing is from The Progressive Silent Film List by Carl Bennett.
Copyright © 1999-2014 by Carl Bennett and the Silent Era Company.
All Rights Reserved.

About This Listing / Report Omissions or Errors in This Listing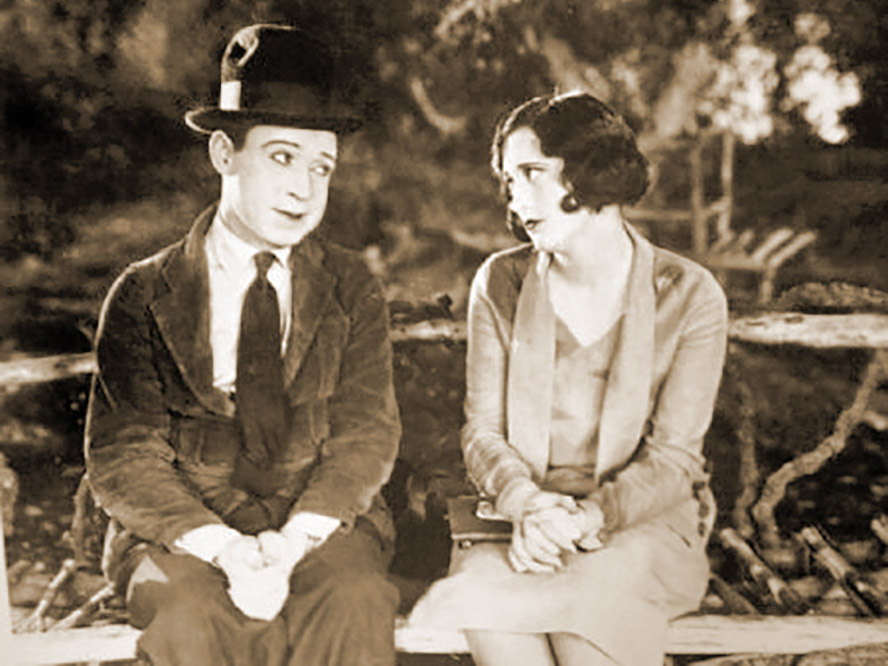 Harry Langdon (left) and Alec B. Francis.
Frame enlargement: Silent Era image collection.

Tramp, Tramp, Tramp


(1926) American
B&W : Six reels / 5830 feet
Directed by Harry Edwards

Cast: Harry Langdon [Harry Logan], Joan Crawford [Betty Burton], Edwards Davis [John Burton], Tom Murray [Nick Kargas], Alec B. Francis [Amos Logan, Harry's father], Brooks Benedict [the taxi driver]; Carlton Griffith [Roger Caldwell]

Harry Langdon Corporation production; distributed by First National Pictures, Incorporated. / Scenario by Arthur Ripley and Frank Capra, from a screen story by Tim Whelan, Hal J. Conklin, J. Frank Holliday and Gerald Duffy + [Frank Capra and Murray Roth]. Production manager, William Jenner. Technical direction by Lloyd Bierly. Cinematography by Elgin Lessley and George Spear. Intertitles by George Marion Jr. Edited by Harold Young. / © 7 March 1927 First National Pictures, Incorporated [LP22515]. Released [?] 17 or 21? March 1926. / Standard 35mm spherical 1.37:1 format. / Working title: Mr. Nobody. Langdon's first feature film. [?] AFI-F2 n. F2.5824 lists the release date as 21 March 1927.

Comedy.

Synopsis: Synopsis available in AFI-F2 n. F2.5824.

Survival status: Prints exist in the film holdings of Cohen Media Group (Raymond Rohauer collection) [35mm positive]; and in the International Museum of Photography and Film at George Eastman House film archive [35mm positive].

Current rights holder: Cohen Media Group.

Keywords: Contests - Marathons - Prison camps - Prisoners - Prisons - USA: Massachusetts

Listing updated: 24 September 2013.

References: Film credits, film viewing : AFI-F2 n. F2.5824; Brownlow-Parade pp. 438, 492; Everson-American p. 276; Kerr-Silent pp. 27, 262, 274-276, 277, 279, 281, 286; Limbacher-Feature p. 257; Maltin-Selected p. 68; McBride-Capra p. 722; Poague-Capra pp. 121, 236; Quirk-Crawford pp. 14, 39; Schelly-Langdon pp. vii, 57, 58-66, 67, 72, 76, 89, 95, 103, 122, 126, 173, 199, 210, 219-220; Sinyard-Silent p. 49; Sklar-Movie p. 206; Vermilye-Twenties pp. 20, 22 : ClasIm-221 pp. 14, 53 : Website-AFI; Website-GEH.

Home video: DVD.