People active in the silent era and people who keep the silent era alive.
Copyright © 1999-2018 by Carl Bennett and the Silent Era Company.
All Rights Reserved.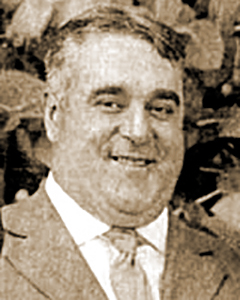 Photograph: Silent Era image collection.
Eric Campbell
Born 26 April 1879 in Dunoon, Scotland, United Kingdom, as Alfred Eric Campbell.
Died 20 December 1917 in California, USA, of injuries sustained in an automobile accident.
Married actress Fanny Gertrude Robotham, 13 March 1901; daughter, Una Campbell, born 1902; until her death in July 1917.
Married Cleta Pearl Gilman, [?] August? 1917; separated October 1917.
Eric Campbell began theatre work in small touring companies in the United Kingdom. He claimed to have appeared with the D'Oyly Carte company, and later was a member of the Fred Karno company.
In July 1914, Eric Campbell travelled to the United States on the sponsorship of Klaw and Erlanger who had engaged him to appear in one of their Broadway play productions. He continued stage work in New York until recognized in a stage play as a Karno veteran by and soon appeared in American films in New York, before beginning work with Charles Chaplin and his brother Sydney Chaplin. Campbell was recruited into motion picture work by the Chaplin brothers as a heavy for Charlie's new film productions for Mutual Film Corporation. Campbell did the work that he would be remembered for in fourteen of the sixteen Chaplin Mutual films, from 1916-1917.
While the newly-independent Charles Chaplin was building his Lone Star Studio in late 1917, Campbell (who was under contract to Chaplin) was loaned to Mary Pickford to appear in Amarilly of Clothes-Line Alley (1918). Three days into the shooting schedule, Campbell was involved in an early morning, high-speed automobile accident at Wilshire Boulevard at Vermont Street in Hollywood, where he died.