People active in the silent era and people who keep the silent era alive.
Copyright © 1999-2018 by Carl Bennett and the Silent Era Company.
All Rights Reserved.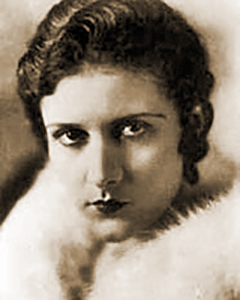 Photograph: Silent Era image collection.
Evelyn Brent
(same as Betty Riggs and Bettie Riggs)
Born 20 October 1899 in Tampa, Florida, USA, as Mary Elizabeth Riggs.
Died 4 June 1975 in Westwood Village (Los Angeles), California, USA, of a heart attack.
Married producer Bernie Fineman, 1926; divorced, 1928.
Smoldering and sultry, brunette Evelyn Brent was the archetypal, hard-as-nails, soft-as-feathers gun moll of Josef von Sternberg's gangster classic Underworld (1927). Born late in 1899, she was orphaned at an early age.
In 1914, she began her career as an extra in an Olga Petrova melodrama at a Fort Lee, New Jersey, studio, appearing under the name Betty Riggs (sometimes Bettie Riggs). In the early 1920s, she pursued her career on the London stage and in such British films as Trapped by the Mormons (1922) and The Spanish Jade (1922). Back in the U.S., Douglas Fairbanks, placed her under personal contract. She was tested for the role as the Princess in his much delayed production of The Thief of Bagdad (1924). Requesting release from her idle contract, she was cast in Held to Answer (1923) and Buck Jones westerns at Fox. Brent was selected as a WAMPAS Baby Star of 1923, along with Eleanor Boardman and Laura La Plante.
Like Universal star Priscilla Dean, Brent became similarly typecast in assorted jewel thief, gangster moll and shady lady roles. From 1924 to 1926, she appeared in thirteen programmers for Robertson-Cole/FBO, including Silk Stocking Sal (1924), Midnight Molly (1925), Lady Robin Hood (1925), Forbidden Cargo (1925) and Three Wise Crooks (1925).
In 1926, she signed a contract with Paramount, and appeared in Love 'em and Leave 'em (1926) with Louise Brooks before achieving major stardom as Feathers McCoy in Josef von Sternberg's crime melodrama Underworld (1927). She appeared in The Drag Net (1928) with George Bancroft, and her high-profile role as the rebel spy Natascha in The Last Command (1928) with Emil Jannings and William Powell followed. Brent appeared in Paramount's first talkie, Interference (1928), with an all-star cast including Powell, Clive Brook (a frequent Brent costar) and Doris Kenyon.
Her career floundered after Paramount released her in 1930. Early talkies such as Framed (1930) and The World Gone Mad (1932) reveal a likeable tough dame persona in the Barbara Stanwyck style. At major and minor studios, she freelanced throughout the 1930s and 1940s in 'B' mysteries, westerns, serials and live television, finally retiring in the early 1950s. She died of a heart attack at 75.
— Biography by Joseph Worrell
References: Liebman, Roy. The Wampas Baby Stars. Jefferson, North Carolina: McFarland Press, 2000, pp. 37-38; Slide, Anthony. Silent Players. Lexington: University of Kentucky Press, 2002, pp. 39-40 : Website-IMDb.