People active in the silent era and people who keep the silent era alive.
Copyright © 1999-2018 by Carl Bennett and the Silent Era Company.
All Rights Reserved.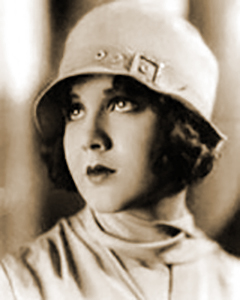 Photograph: Silent Era image collection.
Mary Brian


Born 17 February 1906 in Corsicana, Texas, USA, as Louise Byrdie Dantzeler.
Died 29 December 2002 in Del Mar, California, USA, of heart failure.
Married illustrator Jon Whitcomb, 4 May 1941; divorced, six weeks later.
Married film editor George Tomasini, 26 June 1947; until George's death, 1967.
"The Sweetest Girl in Pictures," as she was dubbed, was born Louise Byrdie Dantzeler. Her father died during her infancy. A second prize in a beauty contest and some influence from contest judge Esther Ralston lead to a Paramount contract in 1923.
Her first film, Herbert Brenon's production of Peter Pan (1924) cast her as Wendy, Ralston as Mrs. Darling, Anna May Wong as Tiger Lily and Betty Bronson as James M. Barrie's boy from "never-never land." One of Paramount's most popular ingenues, Brian decorated a number of big-budget westerns and action thrillers starring stalwart leading men Jack Holt, Richard Dix, Richard Arlen and Gary Cooper. Rarely called upon 'act,' she prettily dressed up scenes with her presence, leaving the action and heavy emoting to others. She was Percy Marmont's daughter in The Street of Forgotten Men (1925), with newcomer Louise Brooks in a debut role.
On loan-out to M-G-M, she was given the starlet treatment with some gorgeous close-ups as the college belle opposite William Haines' conceited freshman in Brown of Harvard (1926). With her pals Fay Wray and Janet Gaynor, she was voted a Wampas Baby of 1926. She was decorative again opposite Ronald Colman in P.C. Wren's Foreign Legion classic Beau Geste (1926). In Forgotten Faces (1928) she played the usual ingénue, with Olga Baclanova as her vixen mother and Clive Brook as her sacrificing father. Like many of her Paramount pictures, Forgotten Faces (a big box-office hit) has not survived for viewing, and is presumed lost. [Ed: A print of Forgotten Faces survives in the Museum of Modern Art.]
Brian made her sound debut in Varsity (1928) a part-talkie, and played the schoolmarm opposite Gary Cooper in The Virginian (1929). Early talkies such as The Marriage Playground (1929) with Lilyan Tashman, Dark Waters (1929), and Lewis Milestone's The Front Page (1931) reveal an agreeable Texas twang.
Freelancing throughout the 1930s, Brian worked for both major and 'indie' companies: for example, Blessed Event (1932) at Warner Brothers and The World Gone Mad (1932), with Evelyn Brent, for Majestic. She ventured to Britain for three pictures in 1936, before retiring in 1937. On occasion, Brian made sporadic comebacks in such low-budgeters as I Escaped from the Gestapo (1943) for Monogram.
During World War II, Brian entertained servicemen in the South Pacific and in Europe. In the mid-1950s, she appeared briefly in television's Meet Corliss Archer. She became a well-known portrait painter in her retirement years.
Mary Brian died of heart failure at 96. While not one of the silent era's biggest, she was one of its longest surviving and more fondly remembered stars.
— Biography by Joseph Worrell
References: Liebman, Roy. The Wampas Baby Stars. Jefferson, North Carolina: McFarland Press, 2000, pp. 40-41; Slide, Anthony. Silent Players. Lexington: University of Kentucky Press, 2002, pp. 43-49; Obituaries by Harris Lentz in Classic Images, Feb. 2003, No. 332, pp. 44-45.