People active in the silent era and people who keep the silent era alive.
Copyright © 1999-2018 by Carl Bennett and the Silent Era Company.
All Rights Reserved.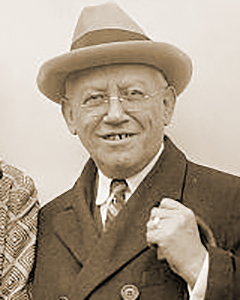 Photograph: Silent Era image collection.
Carl Laemmle
Born 17 January 1867 in Laupheim, Germany.
Died 24 September 1939 in Los Angeles, California, USA.
Married Recha Stern; son, executive Carl Laemmle Jr.; daughter, Rosabelle Laemmle; until Recha's death, 1919.
Uncle of actress and dancer Carla Laemmle.
Carl Laemmle emigrated to the United States of America in 1884. His entré into the motion picture industry came of establishing, purchasing and operating nickelodeon theatres, and he soon moved into film distribution businesses. To establish himself as a motion picture producer, he formed the Independent Moving Pictures Company, Incorporated [IMP] in May 1909. Fighting against the industry control of the Edison Trust, Laemmle established a production unit in Cuba in 1910, which was soon joined by Mary Pickford and Owen Moore who were wooed away from Biograph Company early in 1911.
On 8 June 1912, Carl Laemmle, with Pat Powers of Powers Picture Company, Mark M. Dintenfass of The Champion Film Company, and William Swanson of American Éclair, all merged their production operations into the new corporation, The Universal Film Manufacturing Company, Incorporated, with offices in New York, New York, and production facilities in Fort Lee, New Jersey, and Hollywood, California. With characteristic foresight, Laemmle purchased land in a valley in the Los Angeles area and established Universal City as the new state-of-the-art production headquarters for Universal.
References: Website-Wikipedia.