Reviews of silent film releases on home video.
Copyright © 1999-2019 by Carl Bennett
and the Silent Era Company.
All Rights Reserved.

Bardelys
the Magnificent
(1926)

Long thought to be lost, this MGM historical drama based on a novel by Rafael Sabatini was directed by King Vidor and stars John Gilbert. An incomplete print with French intertitles was recovered in France in 2006 by Lobster Films, Paris, and a reconstruction was completed in 2008. Missing footage has been bridged by stills, intertitles and footage from the original theatrical trailer.

At once, it is established that the Marquis de Bardelys (Gilbert) is a libertine and conqueror of women. His rival in the accolade of the great lover of France is the Comte de Chatellerault (Roy D'Arcy), a man of fragile pride. His matrimonial advances spurned by Roxalanne de Lavedan (Eleanor Boardman), he is the butt of jokes. Goaded by a dare from Chatellerault, Bardelys accepts a costly bet that he can win Roxalanne as his wife. Enter King Louis XIII (Arthur Lubin), who forbids Bardelys from leaving Paris to travel to Lavedan, effectively preventing him from winning the bet.

Nonetheless, Bardelys intends to defend his honor and, in defiance of the king, secretly travels with entourage to Lavedan. Along the way he encounters a dying René de Lesperon (Theodore von Eltz), enemy of the king, who presses Bardelys into delivering a last message to his love. Bardelys continues alone and invokes Lesperon's name to avoid capture by the king's men, with dire results. He is wounded but successfully flees to the coincidental aid of Roxalanne de Lavedan.

Thinking that he is René de Lesperon, leader of the opposition faction, the Lavedan's (especially Roxalanne) nurse the masquerading Bardelys to health. But when knowledge of Lesperon's love tears them apart, Roxalanne betrays Bardelys to the king's men. Bardelys as Lesperon is brought before the tribunal of Toulouse that includes Chatellerault, who feigns any recognition. Can Bardelys be saved from the gallows?

Given that the public had seen Bardelys the Magnificent for decades, and its reputation was uncertain except in contemporary reviews, we find that the film is of above average quality for its ilk and that Gilbert does well in his action-romance role. Boardman seems a bit out-of-place in a period piece such as this. But, Roy D'Arcy is well-chosen for his villainous role, and George K. Arthur provides some comic relief and some expository antagonism as the dandied and ineffectual Chevalier de Saint-Eustache. — Carl Bennett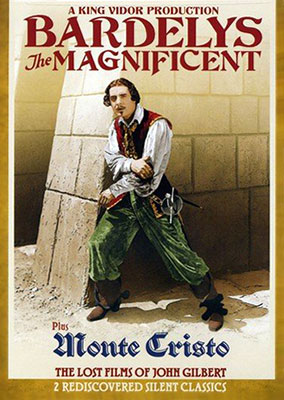 Flicker Alley
2009 DVD edition

Bardelys the Magnificent (1926), black & white, 85 minutes, not rated,
with Monte Cristo (1922), color-tinted and color-toned black & white, 100 minutes, not rated.

Flicker Alley, FA0013, UPC 6-17311-67449-5.
Two single-sided, dual-layered, Region 0 NTSC DVD discs, 1.33:1 aspect ratio image in full-frame 4:3 (720 x 480 pixels) interlaced scan MOEG-2 format, ? Mbps average video bit rate, ? kbps audio bit rate, Dolby Digital 2.0 stereo sound, English language intertitles, no foreign language subtitles, chapter stops; two-disc standard DVD keepcase, $39.95.
Release date: 14 July 2009.
Country of origin: USA

Ratings (1-10): video: 8 / audio: 9 / additional content: 7 / overall: 8.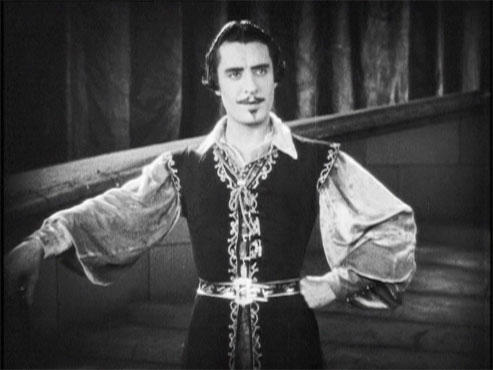 This DVD edition, a collaborative effort of Lobster Films, Film Preservation Associates and Flicker Alley, has been mastered from the 2008 Lobster Films reconstruction of Bardelys the Magnificent, conflated chiefly from a print that was recovered in France in 2006. The print is presumably an export version, as it had French intertitles, that was originally assembled from the B-camera negative. The English language intertitles have been restored from MGM paper records.
The full-frame, natural-speed video transfer is excellent, from the very-good to excellent restoration source material. The greyscale range of the image is broad, with detailed highlights to some very black shadows. Image detail is excellent in the French print, but only very-good in bridging footage selected from a print of the surviving theatrical trailer (Bardelys' swordplay with and flight from the king's men in the inn). Very little dust, speckling and processing flaws are seen in the video transfer. Evidence of digital flaw removal is seen in the film at 46:25 in the highlights of the stray hairs to the right of Eleanor Boardman's head that appear, then disappear and reappear in a shimmer of pixels. Not removed is some sprocket damage to the original material that intrudes into the sides of the frame in the first reels.
Missing footage begins with Bardelys' trek to Lavedan, with expositional bridging intertitles in italic and original dialogue intertitles consistent with the restored original intertitles. Production stills are panned and detailed to give a modicum of a sense of narrative.
The film is accompanied by two selectable music scores, one performed by the Mont Alto Motion Picture Orchestra, another performed on piano by Antonio Coppola. The Mont Alto performance is excellent, as is usual — both lively and entertaining. The Coppola score equals in quality, but we prefer to watch the film to the Mont Alto score.
The disc also features informative full-length audio commentary on Bardelys the Magnificent by Jeffrey Vance and Tony Maietta, a full-length presentation of John Gilbert in Monte Cristo (1922), Rediscovering John Gilbert (2009) featuring an interview with John's daughter Leatrice Gilbert Fountain (32 minutes), and an extensive Bardelys the Magnificent image gallery (242 images).
We highly recommend this home video edition of this previously lost film.
USA: Click the logomark to purchase this Region 0 NTSC DVD edition from Amazon.com. Your purchase supports the Silent Era website..
Canada: Click the logomark to purchase this Region 0 NTSC DVD edition from Amazon.ca. Your purchase supports the Silent Era website.