Reviews of silent film releases on home video.
Copyright © 1999-2018 by Carl Bennett
and the Silent Era Company.
All Rights Reserved.

Love
(1927)

"Gilbert and Garbo in Love" proclaimed theater marques in December 1927, and the film's original poster read, "John Gilbert in Love with Greta Garbo." The off-screen romance of John Gilbert and Greta Garbo had begun when they appeared together in Flesh and the Devil (1927), and movie magazines of the day were full of the story. Not surprisingly, MGM chose to change the title of their loose adaptation of Tolstoy's Anna Karenina to capitalize on the public's fascination with the pair, and they would not go unrewarded: Love (1927) became MGM's fourth highest-grossing film of the silent era.

Anna (Greta Garbo), the young wife of the influential Senator Karenin (Brandon Hurst) and mother to Serezha (Philippe de Lacy), meets Captain Count Alexei Vronsky (John Gilbert) when one of the horses pulling her sleigh is injured. Vronsky comes to her rescue and takes her to a nearby inn until the storm passes. He makes advances. She repulses him. They meet again at an Easter service at home in St. Petersburg. Vronsky begs for her forgiveness, and Anna agrees that they can be friends. The friendship turns into a passionate secret love affair. Secret that is until Vronsky has an accident during a horse race. Anna is so distraught that she exposes her feelings for Vronsky publicly, while sitting next to her husband no less. This is too much for Karenin and he casts Anna out of their house. Anna is now torn between her love for Vronsky and the love she has for her child.

Love was released in the USA with two endings, and whichever ending played in your town was up to the exhibitor. Tolstoy's original tragic ending played mostly in urban centers, and a happy ending was generally seen everywhere else. Love is, if not a very accurate representation of Tolstoy's novel then, a well-crafted cinematic melodrama featuring two of the most prominent and popular romantic icons of the period.

Greta Garbo had begun filming Anna Karenina on 18 April 1927 with director Dmitri Buchowetski, cinematographer Merritt Gerstad, and with Ricardo Cortez as Vronsky and Lionel Barrymore as Karenin. But, after several weeks of production, Garbo became ill, shooting was suspended, and that version of the picture was eventually scrapped.

Although the director of record of the released version of the film was Edmund Goulding, it has been reported by a number of sources that John Gilbert assumed direction of many of the scenes, especially the intimate scenes between himself and Garbo. Whoever directed what, the film is solidly assembled. Garbo's favorite cinematographer William Daniels lit both Garbo and Gilbert to maximum effect and they both look simply stunning. The intertitle cards written by Marion Ainslee and Ruth Cummings are somewhat stilted, but convey the necessary information.

Greta Garbo was just shy of 22 years old when Love was filmed; Gilbert turned 30 during shooting. They are both at the height of their physical attractiveness, and their performances are natural and nuanced. Garbo acts perhaps a tad too theatrical in the racetrack scene, but the scenes with Philippe de Lacy as her son are especially charming and poignant.

In 1935, Garbo would film a sound version of Anna Karenina with Clarence Brown as director, William Daniels again as cinematographer, with Frederic March as Vronsky and Basil Rathbone as Karenin. Comparing Love to Anna Karenina, I prefer the remake even though Garbo and March don't strike the same romantic sparks as Gilbert and Garbo in the earlier version. — Karl Holzheimer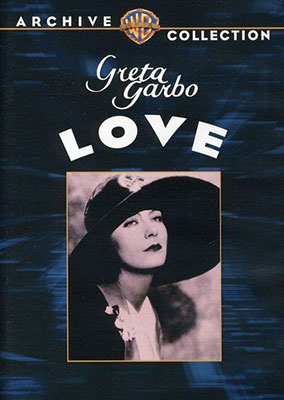 Warner Archive Collection
2009 DVD edition

Love (1927), black & white, 81 minutes, not rated.

Warner Home Video, no catalog number, UPC 8-83316-12741-4.
One single-sided, single-layered, Region 0 NTSC DVD-R disc, 1.33:1 aspect ratio image in full-frame 4:3 (720 x 480 pixels) interlaced scan MPEG-2 format, ? Mbps average video bit rate, ? kbps audio bit rate, Dolby Digital 2.0 stereo sound, English language intertitles, no foreign language subtitles, 8 chapter stops; standard DVD keepcase, $19.95.
Release date: 24 March 2009.
Country of origin: USA

Ratings (1-10): video: 8 / audio: 2 / additional content: 0 / overall: 7.
This Warner Archive Collection DVD-R edition has been mastered from a very-good to excellent, but worn, 35mm print that features a broad range of greytones and very-good image detail. There are some vertical emulsion scratches, and some dust has been allowed to remain in the full-frame, natural-speed video transfer. However, it should be noted that Love was filmed with orthochromatic filmstock, which could not reproduce the entire color spectrum in black and white. Garbo sometimes looks too pale, and that is a result of the filmstock and not the transfer.

This edition of Love was originally produced for broadcast on the Turner Classic Movies cable television network, and even though the film has been screened on TCM with both endings, this edition unfortunately offers only the happy ending.

The film is accompanied by an original music score performed by a small orchestra, as led by the composer Arnold Brostoff, that was recorded live at a 1994 screening of the film at Royce Hall on the UCLA campus. This was an unfortunate idea as, along with the music, an unsophisticated audience laughing and tittering at the film was recorded. Garbo and Gilbert with a laugh track. To make matters even worse, the score itself is not very good: three or four themes are repeated ad nauseam throughout the film whether they are particularly appropriate to the on-screen action or not. I wonder if this music score was the inspiration for the misguided final poem in Christopher Conlon's Romance in Poems, "Gilbert and Garbo in Love," in which a fictional 80-year-old Garbo sneaks into a revival house and watches Love while the audience hoots and howls.

There is no supplementary material included on this on-demand DVD-R disc, and this version of the film contains only the 'happy' ending. With a few noted reservations, we recommend this home video edition of Love.
USA: Click the logomark to purchase this Region 0 NTSC DVD-R edition from Amazon.com. Your purchase supports the Silent Era website.
This Region 0 NTSC DVD-R edition is available directly from . . .