Reviews of silent film releases on home video.
Copyright © 1999-2018 by Carl Bennett
and the Silent Era Company.
All Rights Reserved.

The
Love Light
(1921)

Frances Marion is best remembered as a talented and respected screenwriter. She had an ability to write characters with complex psychological undercurrents that amplified the themes of the story they were part of, and she wrote people that audiences understood and could identify with. She also adeptly understood how to develop and improve a film scenario. At the end of the silent era she remained one of the top writers in Hollywood and she was working for the emerging super-studio MGM. But Frances Marion also worked on occasion as a silent era film director. Mary Pickford, recently freed creatively by her partnership in United Artists, decided in 1920 that Frances Marion was the person to direct the Marion-penned World War I romance that was to become The Love Light (1921). The film was a creative risk because it was a turgid and tragic love story that departed somewhat from the sweet Mary character audiences loved, and it was a WWI era drama made at a time when audiences had had their fill of war stories.

This complicated film requires a complicated synopsis: Angela lives with her two brothers in a small coastal town in Italy. Giovanni loves Angela but cannot capture her heart. Angela's brothers must leave the village for the First World War, and she tends to the lighthouse while her oldest brother is gone. She discovers a man on the rocks of the beach below the lighthouse. He claims to be an American soldier washed ashore by a storm. Angela falls for Joseph the sailor instantly and hides him in her home until he can manage a way to return to his ship. She marries him in secret. During her lighthouse duties one evening she uses the signal light to send what she thinks is a love message to her husband watching from their house. It is instead a signal to a submarine at sea to carry out a destructive act of war, the sinking of a ship of wounded soldiers. Under the guise of a return to his American ship, Joseph plans to escape with the help of Angela, who steals rationed chocolate for him. The villagers suspect a stranger when they discover the theft. Meanwhile Angela discovers her husband is actually a German spy. He professes his love. The villagers track the thief to Angela's home. When she discovers that her young brother was on the sunken ship, she realizes that she has abetted a spy and turns him over to the villagers. Joseph attempts an escape and his fate is that of any spy in this situation. Angela goes mad from guilt and loss, and in a convent bares the baby of Joseph. Her care of the child leads her back to sanity. But Maria, who has also gone mad, steals Angela's baby and accuses her of having relapsed. Angela's frantic concern is read as insanity. Giovanni arrives home from the war blinded. Angela helps him to see the world again through his other senses. Angela continues to yearn for her child and one day encounters Maria with a child whom Angela doesn't recognize as her daughter. The distraught Angela soon remembers that Maria's own child had died. Maria arranges to escape with the baby to Genoa. The small boat she seeks to use will not be a match for the rising evening storm. The lighthouse comes into play once again as its light fails with the small boat floundering in the rough surf. Angela cannot fix the signal light and learns that Maria has departed with her baby on the boat. Angela sets fire to her home to act as a beacon for the damaged boat. By dawn the boat has drifted close enough to shore so that Angela can recover her child, still alive, from the drowned Maria. Giovanni and Angela marry and they begin their lives again in his home.

While the film is possibly over-plotted and is definitely episodic, it plays better over multiple viewings. Our opinion has been that this was one of Mary Pickford's lesser films, but it also represents one of her many attempts to stretch as an artist and carry her audience with her. Pickford is the often suffering Angela; future cowboy film star (and husband to director Marion) Fred Thomson portrays the handsome Joseph. — Carl Bennett
The Milestone Collection
2001 DVD edition

The Love Light (1921), color-toned black & white, 89 minutes, not rated.

Milestone Film & Video, distributed by Image Entertainment, ID9795MLSDVD, UPC 0-14381-97952-7.
One single-sided, single-layered, Region 1 NTSC DVD disc, 1.33:1 aspect ratio image in windowboxed 4:3 (720 x 480 pixels) interlaced scan MPEG-2 format, 5 Mbps average video bit rate, 224 kbps audio bit rate, Dolby Digital 2.0 stereo sound, English language intertitles, no foreign language subtitles, 16 chapter stops; standard DVD keepcase, $29.99.
Release date: 28 August 2001.
Country of origin: USA

Ratings (1-10): video: 7 / audio: 3 / additional content: 0 / overall: 5.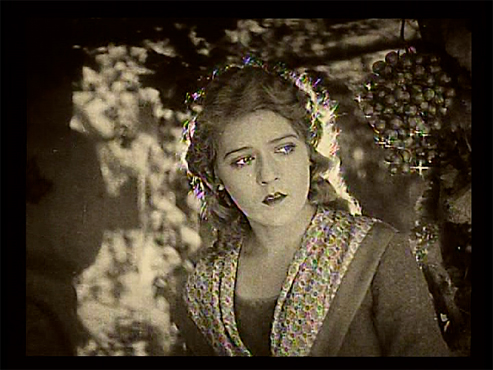 The very good 35mm print (with one reel from a good 16mm reduction print) that was utilized for the video transfer has a broad range of greytones and very good image detail. The combined print is marred with moderate to light speckling that comes and goes, some emulsion chipping and scuffing, and with moderate exposure fluctuations and some loss of highlight detail in the 16mm print. The video transfer is full-frame and is generously cropped. All intertitles remain quite readable and heads are not cropped by the transfer. At least one intertitle has been reset for this edition.
While we are enthusiastic proponents of silent film home video editions with small orchestra or theater organ accompaniment, we have to wonder what some score composers are up to. Passing moments of this music score, composed by Maria Newman for a piano and small orchestra, are annoying in its deliberate atonality, unpleasant melodies and the, at times, inappropriate accompaniment of action onscreen. We especially dislike the sliding and brash notes of the bass trombone that are utilized too often in the score.
Our greatest complaint of this DVD edition of The Love Light is the soundtrack, which has been poorly mastered. The music track is distorted, causing annoying ringing digital reverberations that are sometimes more atonal than the musical composition. The distortion is noticeable to be the point of irritating distraction throughout. We had access to two different pressings of the DVD, one a manufacturer's proof and another the final retail product, and found the distortion present in the discs' soundtracks consistently.
Overall, the film presentation is well done, with the exceptions of the score and sound quality. This is the best quality edition we have seen of The Love Light but we recommend the disc on the merits of its picture quality only.
USA: Click the logomark to purchase this Region 1 NTSC DVD edition from Amazon.com. Your purchase supports the Silent Era website.
Canada: Click the logomark to purchase this Region 1 NTSC DVD edition from Amazon.ca. Your purchase supports the Silent Era website.