A growing source of silent era film information.
This listing is from The Progressive Silent Film List by Carl Bennett.
Copyright © 1999-2014 by Carl Bennett and the Silent Era Company.
All Rights Reserved.

About This Listing / Report Omissions or Errors in This Listing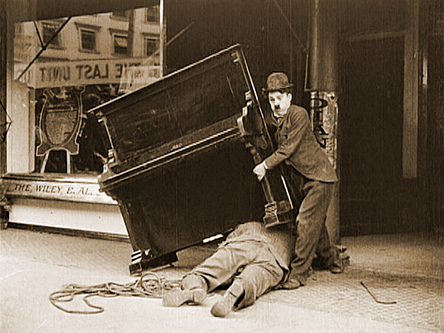 Charles Chaplin.
Frame enlargement: Silent Era image collection.


His Musical Career


Also known as Musical Tramp in the USA; Charlot déménageur in France : [Musical Tramps], [The Piano Movers]
(1914) American
B&W : One reel
Directed by Charles Chaplin

Cast: Charles Chaplin [the new assistant], Mack Swain [the piano mover], Alice Howell, Phyllis Allen, Joe Bordeaux (Joe Bordeau), Charles Parrott (Charley Chase) [the piano salesman], Fritz Schade, Norma Nichols, Hank Mann [Mr. Rich's butler]

The Keystone Film Company production; distributed by Mutual Film Corporation. / Produced by Mack Sennett. Scenario by Charles Chaplin. / Released 7 November 1914. / Standard 35mm spherical 1.37:1 format. / Working title: The Piano Movers [?] Completed or shipped? on 17 October 1914.

Comedy.

Survival status: Print exists [16mm reduction positive].

Current rights holder: Public domain.

Keywords: Animals: Donkeys - Musical instruments: Pianos - Street scenes

Listing updated: 13 September 2008.

References: Film viewing : Bardèche-History p. 85; Jacobs-Chaplin p. 135; Lahue-Kops p. 149; Lahue-Mack p. 297; Tarbox-Lost p. 197.

Home video: DVD.