A growing source of silent era film information.
This listing is from The Progressive Silent Film List by Carl Bennett.
Copyright © 1999-2014 by Carl Bennett and the Silent Era Company.
All Rights Reserved.

About This Listing / Report Omissions or Errors in This Listing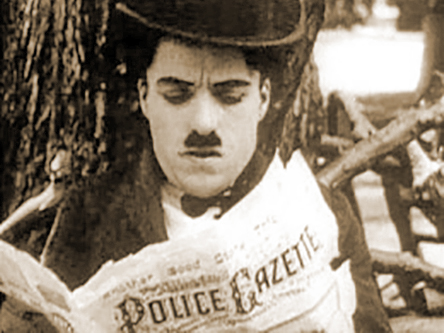 Charles Chaplin.
Frame enlargement: Silent Era image collection.

His New Profession


Also known as The Good-for-Nothing in the USA; Charlot garde-malade in France : [Helping Himself]
(1914) American
B&W : One reel
Directed by Charles Chaplin

Cast: Charles Chaplin, Jess Dandy [the uncle], Charles Parrott (Charley Chase) [the nephew], Cecile Arnold [his girl], Harry McCoy, Roscoe Arbuckle [bartender], Fritz Schade, Norma Nichols, Minta Durfee

The Keystone Film Company production; distributed by Mutual Film Corporation. / Produced by Mack Sennett. Scenario by Charles Chaplin. / No copyright registration. Released 31 August 1914. / Standard 35mm spherical 1.37:1 format. / Working title: The Rolling Chair [?] Completed or shipped? on 14 August 1914. The film was reedited and rereleased in the USA as The Good-for-Nothing by W.H. Productions Company in 1918.

Comedy.

Survival status: Print exists [16mm reduction positive].

Current rights holder: Public domain.

Keywords: Bars - Bottles - Piers - Public parks - Wheelchairs

Listing updated: 21 March 2012.

References: Film viewing : Jacobs-Chaplin p. 135; Lahue-Kops p. 148; Lahue-Mack p. 296; Tarbox-Lost p. 197 : ClasIm-221 p. 42 : Website-IMDb.

Home video: DVD.